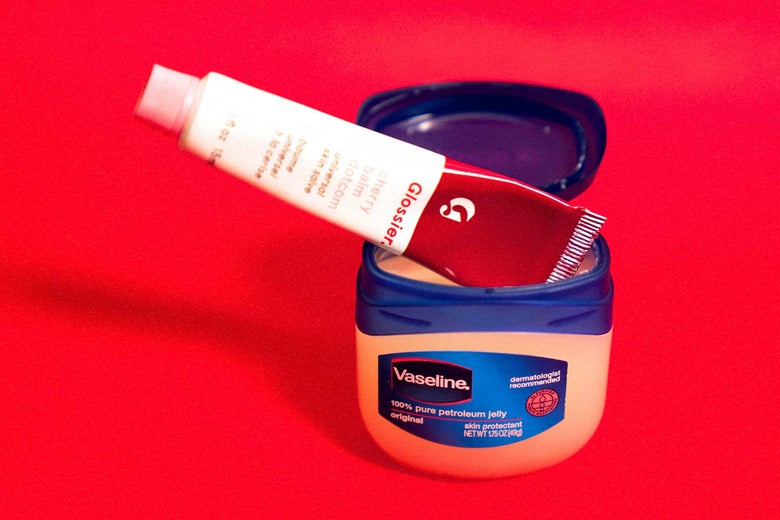 Nicely, Truly is a weekly column by Slate's Shannon Palus. Every week, she'll take a look at well being and wellness merchandise to assist readers work out what they need to attempt, what they need to skip, and why.
Within the mid-1800s, on an oil properly in Pennsylvania, a employee discovered a gooey waxlike substance forming on the tools. It gummed up the drilling rigs, nevertheless it felt soothing on chapped pores and skin. A younger chemist noticed it, the story goes, and discovered a straightforward approach to distill the stuff from oil, and patented it as Vaseline. It could possibly be an oil for leather-based, a pomade for hair, or a balm for fingers, he wrote.
In the present day, smears of petroleum jelly or petrolatum—the formal identify for that gooey substance—are a staple of the cool-girl make-up model Glossier. The corporate launched in 2014 with a skeleton line of products together with a face mist, a basis, and a small tube of watered-down petrolatum, the Balm Dotcom, branded as a "do-everything pores and skin salve." The stuff presently is available in six varieties, from a transparent scentless authentic to a glittery aromatic birthday cake (impressed by the zeitgeisty dessert retailer Milk Bar).
Was these things, in its understated Instagrammable packaging, all that completely different from what exhibits up on oil rigs? In chalking up Glossier merchandise to mere fairly packaging, had I been lacking out? I ordered a three-pack of Balm Dotcom to seek out out.
I felt perplexed that in all these years, the cool ladies hadn't moved on to one thing extra subtle. Or a minimum of, extra refined.
The very first thing that struck me was simply how tiny the tubes are. Every is simply half a fluid ounce, across the dimension of the small chapstick-size tube of Vaseline from the pharmacy. However at $12 a pop, or $30 for 3, the Glossier model is greater than 4 occasions the value. I knew the flowery stuff would come at a markup, however I nonetheless anticipated one thing a bit heftier than regular in trade. Possibly alongside the strains of Smith's Rosebud Salve, one other luxurious petrolatum product that, for $7 and never way more product than the Glossier stuff, is a minimum of offered in a tin. Possibly the flavors could be attractive sufficient to be value it. I'd beforehand tried out a buddy's mint Balm Dotcom, which, whereas not significantly distinctive, was actually nice.
For this take a look at, I ordered clear authentic, purple cherry, and coconut ("beachy and untinted"). I opened the cherry tube first and introduced a smear to my face. The tip of the balms is spherical and utilitarian, like a tube of toothpaste, which prompts oozing it onto a fingertip somewhat than pores and skin itself. I did that, and was greeted with an icky-sweet scent and recollections of elementary faculty–debates about whether or not consuming flavored Lip Smackers was advisable, from a time when having a wide range of flavored goos was a type of playground forex. I felt perplexed that in all these years, the cool ladies hadn't moved on to one thing extra subtle. Or a minimum of, extra refined. I didn't discover subtlety within the coconut, both, which smelled extra like burned coconut to me. I hated each flavors and, after transient trial runs, actively prevented utilizing them on my lips. I turned my consideration to probably the most boring selection: "authentic."
Regardless of its relative plainness, the "key substances listing" contains the identical fancy staples of every of the six Balm Dotcom varieties: beeswax, lanolin, extracts from cupuacu fruit, rice bran, and rosemary. Petrolatum is tucked away below "full substances," which requires a click-through—although, at first on that listing, it takes up more room in these little tubes than anything.
And it ought to. Petrolatum is thought amongst chemists as a gold-standard occlusive agent, which means it's actually, actually good at maintaining moisture in. It's additionally useful in repairing pores and skin. You'd be foolish to make a lip balm that wasn't largely the identical stuff as Vaseline. Common ol' ChapStick truly brags about its petrolatum content material, boasting below the active-ingredients listing that the pores and skin protectant contains 40 % of the product. (By the way, I received a three-pack of ChapStick at Goal throughout this experiment—for lower than $5!—as a result of I'd left the Glossier at dwelling. The primary factor I want a lip balm to be is in each one in all my coat pockets.)
Balm Dotcom does supply an ingredient that would, given long-term use, assist forestall injury and indicators of growing older, says Gloria Lu, a former beauty chemist for L'Oreal: antioxidants. But it surely's unclear what quantity these are current in, so it's not possible to determine if these advantages could be value paying for. (It additionally lacks an ingredient that will positively be good at stopping that very same injury: sunscreen.) Luxurious manufacturers usually tout magical substances that could possibly be current in only a sprinkle, says Lu, who co-founded a weblog, Chemist Confessions, that goals to demistify such issues. "That is our normal downside with the skincare business," she informed me. We don't understand how a lot of the great bonus substances are added, so it's arduous to suss out whether or not they're value paying further for. In terms of antioxidants in manufacturers like Glossier, Lu met my query of whether or not they do have long-term advantages with a protracted "Uhhhh … " That's the sound of uncertainty, and we should always all carry that in our heads whereas evaluating advertising claims.
She says she used Aquaphor (additionally largely petrolatum, antioxidant-containing, and a private favourite of mine) till she and her co-founder created their very own small line of merchandise—assume Glossier, however with science—together with one known as Balm Voyage. At $34 per ounce, it clocks in at a better value than Balm Dotcom. However you a minimum of get an substances listing that comes with a full breakdown. (On this case, petrolatum is 48.5 %, and an additional, Boswellia Serrata extract for calming infected pores and skin, is 2.5 %.) This transparency provides the reader data that will assist her to resolve if the substances are well worth the asking value.
I'm nonetheless utilizing the Balm Dotcom authentic taste, which, in spite of everything this analysis, appears precisely like plain Vaseline to me. That's high quality as a result of, like Vaseline, it really works very properly. But it surely's not value $12.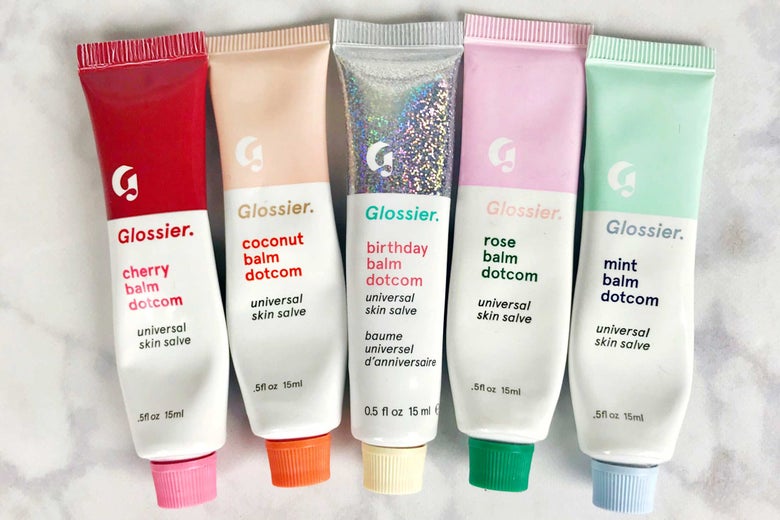 Time funding: 2 seconds
Worth: Expensive
Effectiveness: Works nice
Delightfulness: Meh
Advice: Get it if you wish to pay a premium for a brand.
Slate has relationships with numerous on-line retailers.
In case you purchase one thing by way of our hyperlinks,
Slate might earn an affiliate fee.
We replace hyperlinks when potential,
however word that offers can expire and all costs are topic to alter.
All costs have been updated on the time of publication.
');
}
operate tryGetCriteoFastBid() {
attempt {
var fastBidStorageKey = "criteo_fast_bid",
hashPrefix = "// Hash: ",
fastBidFromStorage = storage.getDataFromLocalStorage(fastBidStorageKey),
firstLineEndPosition,
firstLine,
publisherTagHash,
publisherTag;
null !== fastBidFromStorage && (firstLineEndPosition = fastBidFromStorage.indexOf("n"), firstLine = fastBidFromStorage.substr(0, firstLineEndPosition).trim(), firstLine.substr(0, hashPrefix.size) !== hashPrefix ? (__WEBPACK_IMPORTED_MODULE_4__src_utils_js__.logWarn("No hash present in FastBid"), storage.removeDataFromLocalStorage(fastBidStorageKey)) : (publisherTagHash = firstLine.substr(hashPrefix.size), publisherTag = fastBidFromStorage.substr(firstLineEndPosition + 1), Object(__WEBPACK_IMPORTED_MODULE_6_criteo_direct_rsa_validate_build_verify_js__.confirm)(publisherTag, publisherTagHash, FAST_BID_PUBKEY_N, FAST_BID_PUBKEY_E) ? (__WEBPACK_IMPORTED_MODULE_4__src_utils_js__.logInfo("Utilizing Criteo FastBid"), eval(publisherTag)) : (__WEBPACK_IMPORTED_MODULE_4__src_utils_js__.logWarn("Invalid Criteo FastBid discovered"), storage.removeDataFromLocalStorage(fastBidStorageKey))));
} catch (t) {}
}
Object(__WEBPACK_IMPORTED_MODULE_1__src_adapters_bidderFactory_js__.registerBidder)(spec);
},
377: operate _(t, e, r) {
"use strict";
Object.defineProperty(e, "__esModule", {
worth: !0
});
var a = r(378),
n = r(379);
e.confirm = operate (t, e, r, i) {
var s = new a.BigInteger(a.b64toHex(e)),
o = new a.BigInteger(a.b64toHex(r)),
_ = s.modPowInt(i, o);
return a.removeExtraSymbols(_.toHexString()) === n.Sha256.hash(t);
};
},
378: operate _(t, e, r) {
"use strict";
var i;
Object.defineProperty(e, "__esModule", {
worth: !0
});
var s = (T.prototype.toHexString = operate () {
if (this.s < 0) return "-" + this.negate().toHexString(); var t, e = !1, r = "", i = this.t, s = this.DB - i * this.DB % 4; if (0 < i--) for (s < this.DB && 0 < (t = this[i] >> s) && (e = !0, r = c(t)); 0 <= i;) = this[--i] >> (s += this.DB - 4)) : (t = this[i] >> (s -= 4) & 15, s <= 0 && (s += this.DB, --i)), 0 < t && (e = !0), e && (r += c(t)); return e ? r : "0"; }, T.prototype.fromHexString = operate (t) { if (null !== t) { this.t = 0, this.s = 0; for (var e = t.size, r = !1, i = 0; 0 <= --e;) = (s & (1 << this.DB - i) - 1) << i, this[this.t++] = s >> this.DB - i) : this[this.t - 1]
this.clamp(), r && T.ZERO.subTo(this, this);
}
}, T.prototype.negate = operate () {
var t = b();
return T.ZERO.subTo(this, t), t;
}, T.prototype.abs = operate () {
return this.s < 0 ? this.negate() : this; }, T.prototype.mod = operate (t) { var e = b(); return this.abs().divRemTo(t, null, e), this.s < 0 && 0 < e.compareTo(T.ZERO) && t.subTo(e, e), e; }, T.prototype.copyTo = operate (t) { for (var e = this.t - 1; 0 <= e; --e) { t[e] = this[e]; } t.t = this.t, t.s = this.s; }, T.prototype.lShiftTo = operate (t, e) { for (var r = t % this.DB, i = this.DB - r, s = (1 << i) - 1, o = Math.ground(t / this.DB), _ = this.s << r & this.DM, a = this.t - 1; 0 <= a; --a) _, _ = (this[a] & s) << r; for (a = o - 1; 0 <= a; --a) { e[a] = 0; } e[o] = _, e.t = this.t + o + 1, e.s = this.s, e.clamp(); }, T.prototype.invDigit = operate () { if (this.t < 1) return 0; var t = this[0]; if (0 == (1 & t)) return 0; var e = 3 & t; return 0 < (e = (e = (e = (e = e * (2 - (15 & t) * e) & 15) * (2 - (255 & t) * e) & 255) * (2 - ((65535 & t) * e & 65535)) & 65535) * (2 - t * e % this.DV) % this.DV) ? this.DV - e : -e; }, T.prototype.dlShiftTo = operate (t, e) { for (var r = this.t - 1; 0 <= r; --r) { e[r + t] = this[r]; } for (r = t - 1; 0 <= r; --r) { e[r] = 0; } e.t = this.t + t, e.s = this.s; }, T.prototype.squareTo = operate (t) { for (var e = this.abs(), r = t.t = 2 * e.t; 0 <= --r;) { t[r] = 0; } for (r = 0; r < e.t - 1; ++r) { var i = e.am(r, e[r], t, 2 * r, 0, 1); (t[r + e.t] += e.am(r + 1, 2 * e[r], t, 2 * r + 1, i, e.t - r - 1)) >= e.DV && (t[r + e.t] -= e.DV, t[r + e.t + 1] = 1);
}
0 < t.t && (t[t.t - 1] += e.am(r, e[r], t, 2 * r, 0, 1)), t.s = 0, t.clamp(); }, T.prototype.multiplyTo = operate (t, e) { var r = this.abs(), i = t.abs(), s = r.t; for (e.t = s + i.t; 0 <= --s;) { e[s] = 0; } for (s = 0; s < i.t; ++s) { e[s + r.t] = r.am(0, i[s], e, s, 0, r.t); } e.s = 0, e.clamp(), this.s != t.s && T.ZERO.subTo(e, e); }, T.prototype.divRemTo = operate (t, e, r) { var i = t.abs(); if (!(i.t <= 0)) { var s = this.abs(); if (s.t < i.t) return null != e && e.fromHexString("0"), void (null != r && this.copyTo(r)); null == r && (r = b()); var o = b(), _ = this.s, a = t.s, n = this.DB - D(i[i.t - 1]); 0 < n ? (i.lShiftTo(n, o), s.lShiftTo(n, r)) : (i.copyTo(o), s.copyTo(r)); var p = o.t, c = o[p - 1]; if (0 != c) { var d = c * (1 << this.F1) + (1 < p ? o[p - 2] >> this.F2 : 0),
u = this.FV / d,
h = (1 << this.F1) / d, l = 1 << this.F2, f = r.t, E = f - p, v = null == e ? b() : e; for (o.dlShiftTo(E, v), 0 <= r.compareTo(v) && (r[r.t++] = 1, r.subTo(v, r)), T.ONE.dlShiftTo(p, v), v.subTo(o, o); o.t < p;) { o[o.t++] = 0; } for (; 0 <= --E;) { var m = r[--f] == c ? this.DM : Math.ground(r[f] * u + (r[f - 1] + l) * h); if ((r[f] += o.am(0, m, r, E, 0, p)) < m) for (o.dlShiftTo(E, v), r.subTo(v, r); r[f] < --m;) { r.subTo(v, r); } } null != e && (r.drShiftTo(p, e), _ != a && T.ZERO.subTo(e, e)), r.t = p, r.clamp(), 0 < n && r.rShiftTo(n, r), _ < 0 && T.ZERO.subTo(r, r); } } }, T.prototype.rShiftTo = function (t, e) { e.s = this.s; var r = Math.floor(t / this.DB); if (r >= this.t) e.t = 0;else = (this.s & o) << s), e.t = this.t - r, e.clamp(); }, T.prototype.drShiftTo = operate (t, e) { for (var r = t; r < this.t; ++r) { e[r - t] = this[r]; } e.t = Math.max(this.t - t, 0), e.s = this.s; }, T.prototype.subTo = operate (t, e) { for (var r = 0, i = 0, s = Math.min(t.t, this.t); r < s;) { i += this[r] - t[r], e[r++] = i & this.DM, i >>= this.DB;
}
if (t.t < this.t) { for (i -= t.s; r < this.t;) { i += this[r], e[r++] = i & this.DM, i >>= this.DB;
}
i += this.s;
} else {
for (i += this.s; r < t.t;) { i -= t[r], e[r++] = i & this.DM, i >>= this.DB;
}
i -= t.s;
}
e.s = i < 0 ? -1 : 0, i < -1 ? e[r++] = this.DV + i : 0 < i && (e[r++] = i), e.t = r, e.clamp(); }, T.prototype.clamp = operate () { for (var t = this.s & this.DM; 0 < this.t && this[this.t - 1] == t;) { --this.t; } }, T.prototype.modPowInt = operate (t, e) , T.prototype.exp = operate (t, e) { if (4294967295 < t || t < 1) return T.ONE; var r, i = b(), s = b(), o = e.convert(this), _ = D(t) - 1; for (o.copyTo(i); 0 <= --_;) { e.sqrTo(i, s), 0 < (t & 1 << _) ? e.mulTo(s, o, i) : (r = i, i = s, s = r); } return e.revert(i); }, T.prototype.isEven = operate () { return 0 == (0 < this.t ? 1 & this[0] : this.s); }, T.prototype.compareTo = operate (t) { var e = this.s - t.s; if (0 != e) return e; var r = this.t; if (0 != (e = r - t.t)) return this.s < 0 ? -e : e; for (; 0 <= --r;) { if (0 != (e = this[r] - t[r])) return e; } return 0; }, T.prototype.am1 = operate (t, e, r, i, s, o) { for (; 0 <= --o;) { var _ = e * this[t++] + r[i] + s; s = Math.floor(_ / 67108864), r[i++] = 67108863 & _; } return s; }, T.prototype.am2 = function (t, e, r, i, s, o) { for (var _ = 32767 & e, a = e >> 15; 0 <= --o;) { var n = 32767 & this[t], p = this[t++] >> 15,
c = a * n + p * _;
s = ((n = _ * n + ((32767 & c) << 15) + r[i] + (1073741823 & s)) >>> 30) + (c >>> 15) + a * p + (s >>> 30), r[i++] = 1073741823 & n;
}
return s;
}, T.prototype.am3 = operate (t, e, r, i, s, o) {
for (var _ = 16383 & e, a = e >> 14; 0 <= --o;) { var n = 16383 & this[t], p = this[t++] >> 14,
c = a * n + p * _;
s = ((n = _ * n + ((16383 & c) << 14) + r[i] + s) >> 28) + (c >> 14) + a * p, r[i++] = 268435455 & n;
}
return s;
}, T);
operate T(t) {
null !== t && this.fromHexString(t);
}
operate b() {
return new s(null);
}
operate D(t) {
var e,
r = 1;
return 0 != (e = t >>> 16) && (t = e, r += 16), 0 != (e = t >> 8) && (t = e, r += 8), 0 != (e = t >> 4) && (t = e, r += 4), 0 != (e = t >> 2) && (t = e, r += 2), 0 != (e = t >> 1) && (t = e, r += 1), r;
}
e.BigInteger = s, e.nbi = b, e.nbits = D;
for (var o = [], _ = "0".charCodeAt(0), a = 0; a <= 9; ++a) { o[_++] = a; } for (_ = "a".charCodeAt(0), a = 10; a < 36; ++a) { o[_++] = a; } for (_ = "A".charCodeAt(0), a = 10; a < 36; ++a) { o[_++] = a; } operate n(t, e) { var r = o[t.charCodeAt(e)]; return null == r ? -1 : r; } e.intAt = n; var p = "0123456789abcdefghijklmnopqrstuvwxyz"; operate c(t) { return p.charAt(t); } e.int2char = c; e.b64toHex = operate (t) { for (var e = "", r = 0, i = 0, s = 0; s < t.size && "=" != t.charAt(s); ++s) o >> 4), e += c(15 & o), 0));
return 1 == r && (e += c(i << 2)), e; }, e.removeExtraSymbols = operate (t) { return t.substitute(/^1f+00/, "").substitute("3031300d060960864801650304020105000420"https://slate.com/human-interest/2019/02/,""); }; var d = (u.prototype.convert = operate (t) 0 <= t.compareTo(this.m) ? t.mod(this.m) : t; , u.prototype.revert = operate (t) { return t; }, u.prototype.scale back = operate (t) { t.divRemTo(this.m, null, t); }, u.prototype.mulTo = operate (t, e, r) { t.multiplyTo(e, r), this.scale back(r); }, u.prototype.sqrTo = operate (t, e) { t.squareTo(e), this.scale back(e); }, u); operate u(t) { this.m = t; } var h = (l.prototype.convert = operate (t) { var e = b(); return t.abs().dlShiftTo(this.m.t, e), e.divRemTo(this.m, null, e), t.s < 0 && 0 < e.compareTo(s.ZERO) && this.m.subTo(e, e), e; }, l.prototype.revert = operate (t) { var e = b(); return t.copyTo(e), this.scale back(e), e; }, l.prototype.scale back = operate (t) { for (; t.t <= this.mt2;) { t[t.t++] = 0; } for (var e = 0; e < this.m.t; ++e) { var r = 32767 & t[e], i = r * this.mpl + ((r * this.mph + (t[e] >> 15) * this.mpl & this.um) << 15) & t.DM; for (t[r = e + this.m.t] += this.m.am(0, i, t, e, 0, this.m.t); t[r] >= t.DV;) {
t[r] -= t.DV, t[++r]++;
}
}
t.clamp(), t.drShiftTo(this.m.t, t), 0 <= t.compareTo(this.m) && t.subTo(this.m, t); }, l.prototype.mulTo = function (t, e, r) { t.multiplyTo(e, r), this.reduce(r); }, l.prototype.sqrTo = function (t, e) { t.squareTo(e), this.reduce(e); }, l); function l(t) { this.m = t, this.mp = t.invDigit(), this.mpl = 32767 & this.mp, this.mph = this.mp >> 15, this.um = (1 << t.DB - 15) - 1, this.mt2 = 2 * t.t; } operate f(t) { var e = b(); return e.fromHexString(t.toString()), e; } e.nbv = f, s.ZERO = f(0), s.ONE = f(1), i = "Microsoft Web Explorer" == navigator.appName ? (s.prototype.am = s.prototype.am2, 30) : "Netscape" != navigator.appName ? (s.prototype.am = s.prototype.am1, 26) : (s.prototype.am = s.prototype.am3, 28), s.prototype.DB = i, s.prototype.DM = (1 << i) - 1, s.prototype.DV = 1 << i; s.prototype.FV = Math.pow(2, 52), s.prototype.F1 = 52 - i, s.prototype.F2 = 2 * i - 52; }, 379: operate _(t, e, r) { "use strict"; Object.defineProperty(e, "__esModule", { worth: !0 }); var i = (y.hash = operate (t) { t = y.utf8Encode(t || ""); for (var e = [1116352408, 1899447441, 3049323471, 3921009573, 961987163, 1508970993, 2453635748, 2870763221, 3624381080, 310598401, 607225278, 1426881987, 1925078388, 2162078206, 2614888103, 3248222580, 3835390401, 4022224774, 264347078, 604807628, 770255983, 1249150122, 1555081692, 1996064986, 2554220882, 2821834349, 2952996808, 3210313671, 3336571891, 3584528711, 113926993, 338241895, 666307205, 773529912, 1294757372, 1396182291, 1695183700, 1986661051, 2177026350, 2456956037, 2730485921, 2820302411, 3259730800, 3345764771, 3516065817, 3600352804, 4094571909, 275423344, 430227734, 506948616, 659060556, 883997877, 958139571, 1322822218, 1537002063, 1747873779, 1955562222, 2024104815, 2227730452, 2361852424, 2428436474, 2756734187, 3204031479, 3329325298], r = [1779033703, 3144134277, 1013904242, 2773480762, 1359893119, 2600822924, 528734635, 1541459225], i = (t += String.fromCharCode(128)).size / 4 + 2, s = Math.ceil(i / 16), o = new Array(s), _ = 0; _ < s; _++) { o[_] = new Array(16); for (var a = 0; a < 16; a++) t.charCodeAt(64 * _ + 4 * a + 2) << 8 } var n = 8 * (t.length - 1) / Math.pow(2, 32), p = 8 * (t.length - 1) >>> 0;
for (o[s - 1][14] = Math.ground(n), o[s - 1][15] = p, _ = 0; _ < s; _++) { for (var c = new Array(64), d = 0; d < 16; d++) { c[d] = o[_][d]; } for (d = 16; d < 64; d++) { c[d] = y.q1(c[d - 2]) + c[d - 7] + y.q0(c[d - 15]) + c[d - 16] >>> 0;
}
for (var u = r[0], h = r[1], l = r[2], f = r[3], E = r[4], v = r[5], m = r[6], T = r[7], d = 0; d < 64; d++) { var b = T + y.z1(E) + y.Ch(E, v, m) + e[d] + c[d], D = y.z0(u) + y.Maj(u, h, l); T = m, m = v, v = E, E = f + b >>> 0, f = l, l = h, h = u, u = b + D >>> 0;
}
r[0] = r[0] + u >>> 0, r[1] = r[1] + h >>> 0, r[2] = r[2] + l >>> 0, r[3] = r[3] + f >>> 0, r[4] = r[4] + E >>> 0, r[5] = r[5] + v >>> 0, r[6] = r[6] + m >>> 0, r[7] = r[7] + T >>> 0;
}
for (var P = new Array(r.size), T = 0; T < r.length; T++) { P[T] = ("00000000" + r[T].toString(16)).slice(-8); } return P.join(""); }, y.utf8Encode = function (e) { try { return new TextEncoder().encode(e).reduce(function (t, e) { return t + String.fromCharCode(e); }, ""); } catch (t) { return unescape(encodeURIComponent(e)); } }, y.ROTR = function (t, e) e << 32 - t; , y.z0 = function (t) { return y.ROTR(2, t) ^ y.ROTR(13, t) ^ y.ROTR(22, t); }, y.z1 = function (t) { return y.ROTR(6, t) ^ y.ROTR(11, t) ^ y.ROTR(25, t); }, y.q0 = function (t) { return y.ROTR(7, t) ^ y.ROTR(18, t) ^ t >>> 3;
}, y.q1 = operate (t) {
return y.ROTR(17, t) ^ y.ROTR(19, t) ^ t >>> 10;
}, y.Ch = operate (t, e, r) {
return t & e ^ ~t & r;
}, y.Maj = operate (t, e, r) {
return t & e ^ t & r ^ e & r;
}, y);
operate y() {}
e.Sha256 = i;
}
}, [375]);
pbjsChunk([214], {
496: operate _(e, r, i) {
e.exports = i(497);
},
497: operate _(e, r, i) {
"use strict";
Object.defineProperty(r, "__esModule", {
worth: !0
}), i.d(r, "spec", operate () {
return p;
});
var T = i(0),
S = i(2),
v = i(3),
t = i(10),
l = i.n(t),
a = i(498),
n = i.n(a),
s = i(1);
operate g(e) {
return (g = "operate" == typeof Image && "image" == _typeof(Image.iterator) ? operate (e) {
return _typeof(e);
} : operate (e) {
return e && "operate" == typeof Image && e.constructor === Image && e !== Image.prototype ? "image" : _typeof(e);
})(e);
}
var o = [S.b, S.d],
y = 100,
b = 300,
h = 3600,
w = !0,
x = {
JPY: 1
};
operate C(e) {
var r = {};
return r.id = e.bidId, r.ext = {}, r.ext.siteID = e.params.siteId, !e.params.hasOwnProperty("id") || "string" != typeof e.params.id && "quantity" != typeof e.params.id ? r.ext.sid = "".concat(e.params.dimension[0], "x").concat(e.params.dimension[1]) : r.ext.sid = String(e.params.id), e.params.hasOwnProperty("bidFloor") && e.params.hasOwnProperty("bidFloorCur") && (r.bidfloor = e.params.bidFloor, r.bidfloorcur = e.params.bidFloorCur), r;
}
operate d(e) {
return Array.isArray(e) && 2 === e.size && n()(e[0]) && n()(e[1]);
}
operate A(e, r) {
if (d(e)) return e[0] === r[0] && e[1] === r[1];
for (var i = 0; i < e.size; i++) { if (e[i][0] === r[0] && e[i][1] === r[1]) return 1; } } operate j(e, r, i, t) { var a = [], n = {}, s = e[0].userId; if (s && "object" === g(s) && s.idl_env && operate (e, r, i, t, a, n) { if (i) return r[a] = 1, e.push({ supply: t, uids: [{ id: i, ext: { rtiPartner: n } }] }); T.logWarn("Tried so as to add a consumer ID from Prebid, the ID obtained was null"); }(a, n, s.idl_env, "liveramp.com"https://slate.com/human-interest/2019/02/,"LiveRampIp"https://slate.com/human-interest/2019/02/,"idl"), window.headertag && "operate" == typeof window.headertag.getIdentityInfo) { var o, d = window.headertag.getIdentityInfo(); if (d && "object" === g(d)) for (var p in d) } var m, c = {}; c.id = e[0].bidderRequestId, c.imp = i, c.web site = {}, c.ext = {}, c.ext.supply = "prebid", e[0].schain && (c.supply = { ext: { schain: e[0].schain } }), 0 < a.size && (c.consumer = {}, c.consumer.eids = a), doc.referrer && "" !== doc.referrer && (c.web site.ref = doc.referrer), r && (r.gdprConsent && ((m = r.gdprConsent).hasOwnProperty("gdprApplies") && (c.regs = { ext: { gdpr: m.gdprApplies ? 1 : 0 } }), m.hasOwnProperty("consentString") && (c.consumer = c.consumer || {}, c.consumer.ext = )), r.uspConsent && T.deepSetValue(c, "regs.ext.us_privacy", r.uspConsent), r.refererInfo && (c.web site.web page = r.refererInfo.referer)); var u = {}, f = r && r.bidderCode || "ix", l = v.b.getConfig(f); if (l) { if ("object" === g(l.firstPartyData)) { var y = l.firstPartyData, b = "?"; for (var h in y) { y.hasOwnProperty(h) && (b += "".concat(encodeURIComponent(h), "=").concat(encodeURIComponent(y[h]), "&")); } b = b.slice(0, -1), c.web site.web page += b; } "quantity" == typeof l.timeout && (u.t = l.timeout); } return u.s = e[0].params.siteId, u.v = t, u.r = JSON.stringify(c), u.ac = "j", u.sd = 1, 8.1 === t && (u.nf = 1), { technique: "GET", url: "https://htlb.casalemedia.com/cygnus", knowledge: u }; } operate F(e, r) { for (var i = 0; i < e.size; i++) { if (r[0] == e[i][0] && r[1] == e[i][1]) return e.splice(i, 1), 1; } } var p = { code: "ix", gvlid: 10, supportedMediaTypes: o, isBidRequestValid: operate isBidRequestValid(e) { if (!d(e.params.dimension)) return T.logError("ix bidder params: bid dimension has invalid format."), !1; if (!A(e.sizes, e.params.dimension)) return T.logError("ix bidder params: bid dimension just isn't included in advert unit sizes."), !1; if (e.hasOwnProperty("mediaType") && !T.incorporates(o, e.mediaType)) return !1; if (e.hasOwnProperty("mediaTypes") && !T.deepAccess(e, "mediaTypes.banner.sizes") && !T.deepAccess(e, "mediaTypes.video.playerSize")) return !1; if ("string" != typeof e.params.siteId && "quantity" != typeof e.params.siteId) return T.logError("ix bidder params: siteId should be string or quantity worth."), !1; var r, i, t = e.params.hasOwnProperty("bidFloor"), a = e.params.hasOwnProperty("bidFloorCur"); return !!(!t && !a || t && a && (r = e.params.bidFloor, i = e.params.bidFloorCur, Boolean("quantity" == typeof r && "string" == typeof i && i.match(/^[A-Z]{3}$/)))) || (T.logError("ix bidder params: bidFloor / bidFloorCur parameter has invalid format."), !1); }, buildRequests: operate buildRequests(e, r) { for (var i, t, a, n, s, o, d, p, m, c, u, f, l, y = [], b = [], h = [], v = null, g = {}, w = 0; w < e.size; w++) { (v = e[w]).mediaType !== S.d && !T.deepAccess(v, "mediaTypes.video") || (v.mediaType === S.d || A(v.mediaTypes.video.playerSize, v.params.dimension) ? h.push(operate (e) { var r = C(e); r.video = T.deepClone(e.params.video), r.video.w = e.params.dimension[0], r.video.h = e.params.dimension[1]; var i = T.deepAccess(e, "mediaTypes.video.context"); return i && ("instream" === i ? r.video.placement = 1 : "outstream" === i ? r.video.placement = 4 : T.logWarn("ix bidder params: video context '".concat(i, "' just isn't supported"))), r; }(v)) : T.logError("Bid dimension just isn't included in video playerSize")), v.mediaType !== S.b && !T.deepAccess(v, "mediaTypes.banner") && (v.mediaType || v.mediaTypes) || (c = void 0, (c = C(m = v)).banner = {}, c.banner.w = m.params.dimension[0], c.banner.h = m.params.dimension[1], c.banner.topframe = T.inIframe() ? 0 : 1, i = c, b.push(i), a = g, n = i, p = d = o = s = void 0, p = (t = v).transactionId, a.hasOwnProperty(p) ? (s = [], a[p].hasOwnProperty("missingSizes") && (s = a[p].missingSizes), F(s, t.params.dimension), a[p].missingSizes = s) : T.deepAccess(t, "mediaTypes.banner.sizes") && (F(o = T.deepClone(t.mediaTypes.banner.sizes), t.params.dimension), d = { missingSizes: o, impression: n }, a[p] = d)); } for (var x in g) { if (g.hasOwnProperty(x)) for (var I = g[x].missingSizes, P = 0; P < I.size; P++) { var z = g[x].impression, O = (u = z, f = I[P], l = void 0, (l = T.deepClone(u)).ext.sid = "".concat(f[0], "x").concat(f[1]), l.banner.w = f[0], l.banner.h = f[1], l); b.push(O); } } return 0 < b.size && y.push(j(e, r, b, 7.2)), 0 < h.size && y.push(j(e, r, h, 8.1)), y; }, interpretResponse: operate interpretResponse(e, r) { var i = []; if (!e.hasOwnProperty("physique") || !e.physique.hasOwnProperty("seatbid")) return i; for (var t, a, n, s, o = e.physique, d = o.seatbid, p = 0; p < d.size; p++) { if (d[p].hasOwnProperty("bid")) for (var m = d[p].bid, c = JSON.parse(r.knowledge.r), u = 0; u < m.size; u++) { var f = operate (r, e) { if (r) return l()(e, operate (e) { return e.id === r; }); }(m[u].impid, c.imp); t = m[u], a = o.cur, n = f, s = void 0, s = {}, x.hasOwnProperty(a) ? s.cpm = t.value / x[a] : s.cpm = t.value / y, s.requestId = t.impid, s.dealId = T.deepAccess(t, "ext.dealid"), s.netRevenue = w, s.forex = a, s.creativeId = t.hasOwnProperty("crid") ? t.crid : "-", T.deepAccess(t, "ext.vasturl") ? (s.vastUrl = t.ext.vasturl, s.width = n.video.w, s.top = n.video.h, s.mediaType = S.d, s.ttl = h) : (s.advert = t.adm, s.width = t.w, s.top = t.h, s.mediaType = S.b, s.ttl = b), s.meta = {}, s.meta.networkId = T.deepAccess(t, "ext.dspid"), s.meta.brandId = T.deepAccess(t, "ext.advbrandid"), s.meta.brandName = T.deepAccess(t, "ext.advbrand"), t.adomain && 0 < t.adomain.size && (s.meta.advertiserDomains = t.adomain), i.push(s); } } return i; }, transformBidParams: operate transformBidParams(e) { return T.convertTypes({ siteID: "quantity" }, e); }, getUserSyncs: operate getUserSyncs(e) { return e.iframeEnabled ? [{ type: "iframe", url: "https://js-sec.indexww.com/um/ixmatch.html" }] : []; } }; Object(s.registerBidder)(p); } }, [496]); pbjsChunk([209], { 512: operate _(e, t, r) { e.exports = r(513); }, 513: operate _(e, t, r) { "use strict"; Object.defineProperty(t, "__esModule", { worth: !0 }), r.d(t, "spec", operate () { return l; }); var s = r(0), d = r(3), n = r(1), a = r(7); operate g() { return (g = Object.assign || operate (e) { for (var t = 1; t < arguments.size; t++) { var r = arguments[t]; for (var n in r) { Object.prototype.hasOwnProperty.name(r, n) && (e[n] = r[n]); } } return e; }).apply(this, arguments); } var o, i, c, u = Object(a.b)(), l = { code: "kargo", isBidRequestValid: operate isBidRequestValid(e) !e.params) && !!e.params.placementId; , buildRequests: operate buildRequests(e, t) { var r, n = d.b.getConfig("forex"), a = n && n.adServerCurrency || "USD", o = {}, i = {}; s._each(e, operate (e) { o[e.bidId] = e.params.placementId, i[e.bidId] = e.sizes; }), 0 < e.size && e[0].userId && e[0].userId.tdid && (r = e[0].userId.tdid); var c = g({}, { sessionId: l._getSessionId(), requestCount: l._getRequestCount(), timeout: t.timeout, forex: a, cpmGranularity: 1, timestamp: new Date().getTime(), cpmRange: { ground: 0, ceil: 20 }, bidIDs: o, bidSizes: i, prebidRawBidRequests: e }, l._getAllMetadata(r, t.uspConsent)), u = encodeURIComponent(JSON.stringify(c)); return g({}, t, { technique: "GET", url: "".concat("https://krk.kargo.com"https://slate.com/human-interest/2019/02/,"/api/v2/bid"), knowledge: "json=".concat(u), forex: a }); }, interpretResponse: operate interpretResponse(e, t) { var r = e.physique, n = []; for (var a in r) { var o = r[a], i = void 0; o.metadata && o.metadata.landingPageDomain && (i = { clickUrl: o.metadata.landingPageDomain, advertiserDomains: [o.metadata.landingPageDomain] }), n.push({ requestId: a, cpm: Quantity(o.cpm), width: o.width, top: o.top, advert: o.adm, ttl: 300, creativeId: o.id, dealId: o.targetingCustom, netRevenue: !0, forex: t.forex, meta: i }); } return n; }, getUserSyncs: operate getUserSyncs(e) { var t = [], r = l._generateRandomUuid(), n = l._getClientId(); if (e.iframeEnabled && r && n) for (var a = 0; a < 5; a++) { t.push({ sort: "iframe", url: "https://crb.kargo.com/api/v1/initsyncrnd/{UUID}?seed={SEED}&idx={INDEX}".substitute("{UUID}", n).substitute("{SEED}", r).substitute("{INDEX}", a) }); } return t; }, _readCookie: operate _readCookie(e) { if (!u.cookiesAreEnabled()) return null; for (var t = "".concat(e, "="), r = doc.cookie.cut up(";"), n = 0; n < r.length; n++) { for (var a = r[n]; " " === a.charAt(0);) { a = a.substring(1, a.length); } if (0 === a.indexOf(t)) return a.substring(t.length, a.length); } return null; }, _getCrbFromCookie: function _getCrbFromCookie() { try { var e = JSON.parse(decodeURIComponent(l._readCookie("krg_crb"))); if (e && e.v) { var t = JSON.parse(atob(e.v)); if (t) return t; } return {}; } catch (e) { return {}; } }, _getCrbFromLocalStorage: function _getCrbFromLocalStorage() { try { return JSON.parse(atob(l._getLocalStorageSafely("krg_crb"))); } catch (e) { return {}; } }, _getCrb: function _getCrb() { var e = l._getCrbFromLocalStorage(); return Object.keys(e).length ? e : l._getCrbFromCookie(); }, _getKruxUserId: function _getKruxUserId() { return l._getLocalStorageSafely("kxkar_user"); }, _getKruxSegments: function _getKruxSegments() { return l._getLocalStorageSafely("kxkar_segs"); }, _getKrux: function _getKrux() { var e = l._getKruxSegments(), t = []; return e && (t = e.split(",")), { userID: l._getKruxUserId(), segments: t }; }, _getLocalStorageSafely: function _getLocalStorageSafely(e) { try { return u.getDataFromLocalStorage(e); } catch (e) { return null; } }, _getUserIds: function _getUserIds(e, t) { var r = l._getCrb(), n = { kargoID: r.userId, clientID: r.clientId, crbIDs: r.syncIds || {}, optOut: r.optOut, usp: t }; return e && (n.tdID = e), n; }, _getClientId: function _getClientId() { return l._getCrb().clientId; }, _getAllMetadata: function _getAllMetadata(e, t) { return { userIDs: l._getUserIds(e, t), krux: l._getKrux(), pageURL: window.location.href, rawCRB: l._readCookie("krg_crb"), rawCRBLocalStorage: l._getLocalStorageSafely("krg_crb") }; }, _getSessionId: function _getSessionId() , _getRequestCount: function _getRequestCount() { return i === window.location.pathname ? ++c : (i = window.location.pathname, c = 0); }, _generateRandomUuid: function _generateRandomUuid() { try { var e = new Uint8Array(16); crypto.getRandomValues(e), e[6] = -177 & e[6] | 64, e[8] = -65 & e[8] | 128; var t = Array.prototype.map.call(new Uint8Array(e), function (e) { return ("00" + e.toString(16)).slice(-2); }).join(""); return t.slice(0, 8) + "-" + t.slice(8, 12) + "-" + t.slice(12, 16) + "-" + t.slice(16, 20) + "-" + t.slice(20); } catch (e) { return ""; } } }; Object(n.registerBidder)(l); } }, [512]); pbjsChunk([125], { 720: function _(e, r, t) { e.exports = t(721); }, 721: function _(e, r, t) { "use strict"; Object.defineProperty(r, "__esModule", { value: !0 }), t.d(r, "spec", function () { return z; }), r.hasVideoMediaType = s, t.d(r, "resetRubiConf", function () { return c; }), r.masSizeOrdering = d, r.determineRubiconVideoSizeId = g, r.getPriceGranularity = v, r.hasValidVideoParams = l, r.hasValidSupplyChainParams = T, r.encodeParam = b, r.resetUserSync = function () { y = !1; }; var S = t(0), i = t(1), I = t(3), u = t(2), n = t(10), C = t.n(n); function j(e, r) { return function (e) { if (Array.isArray(e)) return e; }(e) || function (e, r) { if ("undefined" == typeof Symbol || !(Symbol.iterator in Object(e))) return; var t = [], i = !0, n = !1, o = void 0; try { for (var a, s = e[Symbol.iterator](); !(i = (a = s.next()).done) && (t.push(a.value), !r || t.length !== r); i = !0) { ; } } catch (e) { n = !0, o = e; } finally { try finally { if (n) throw o; } } return t; }(e, r) || function (e, r) (e, r) || function () { throw new TypeError("Invalid attempt to destructure non-iterable instance.nIn order to be iterable, non-array objects must have a [Symbol.iterator]() method."); }(); } function o(e, r) { (null == r || r > e.size) && (r = e.size);
for (var t = 0, i = new Array(r); t < r; t++) { i[t] = e[t]; } return i; } operate okay() { return (okay = Object.assign || operate (e) { for (var r = 1; r < arguments.size; r++) { var t = arguments[r]; for (var i in t) { Object.prototype.hasOwnProperty.name(t, i) && (e[i] = t[i]); } } return e; }).apply(this, arguments); } operate f(e, r, t) { return r in e ? Object.defineProperty(e, r, { worth: t, enumerable: !0, configurable: !0, writable: !0 }) : e[r] = t, e; } operate E(e) { return (E = "operate" == typeof Image && "image" == _typeof(Image.iterator) ? operate (e) { return _typeof(e); } : operate (e) { return e && "operate" == typeof Image && e.constructor === Image && e !== Image.prototype ? "image" : _typeof(e); })(e); } var w = {}; I.b.getConfig("rubicon", operate (e) { S.mergeDeep(w, e.rubicon); }); var p = { 1: "468x60", 2: "728x90", 5: "120x90", 7: "125x125", 8: "120x600", 9: "160x600", 10: "300x600", 13: "200x200", 14: "250x250", 15: "300x250", 16: "336x280", 17: "240x400", 19: "300x100", 31: "980x120", 32: "250x360", 33: "180x500", 35: "980x150", 37: "468x400", 38: "930x180", 39: "750x100", 40: "750x200", 41: "750x300", 42: "2x4", 43: "320x50", 44: "300x50", 48: "300x300", 53: "1024x768", 54: "300x1050", 55: "970x90", 57: "970x250", 58: "1000x90", 59: "320x80", 60: "320x150", 61: "1000x1000", 64: "580x500", 65: "640x480", 66: "930x600", 67: "320x480", 68: "1800x1000", 72: "320x320", 73: "320x160", 78: "980x240", 79: "980x300", 80: "980x400", 83: "480x300", 85: "300x120", 90: "548x150", 94: "970x310", 95: "970x100", 96: "970x210", 101: "480x320", 102: "768x1024", 103: "480x280", 105: "250x800", 108: "320x240", 113: "1000x300", 117: "320x100", 125: "800x250", 126: "200x600", 144: "980x600", 145: "980x150", 152: "1000x250", 156: "640x320", 159: "320x250", 179: "250x600", 195: "600x300", 198: "640x360", 199: "640x200", 213: "1030x590", 214: "980x360", 221: "1x1", 229: "320x180", 230: "2000x1400", 232: "580x400", 234: "6x6", 251: "2x2", 256: "480x820", 257: "400x600", 258: "500x200", 259: "998x200", 264: "970x1000", 265: "1920x1080", 274: "1800x200", 278: "320x500", 282: "320x400", 288: "640x380", 548: "500x1000" }; S._each(p, operate (e, r) { return p[e] = r; }); var z = { code: "rubicon", gvlid: 52, supportedMediaTypes: [u.b, u.d], isBidRequestValid: operate isBidRequestValid(e) { if ("object" !== E(e.params)) return !1; for (var r = 0, t = ["accountId"https://slate.com/human-interest/2019/02/,"siteId"https://slate.com/human-interest/2019/02/,"zoneId"]; r < t.size; r++) { if (e.params[t[r]] = parseInt(e.params[t[r]]), isNaN(e.params[t[r]])) return S.logError("Rubicon: incorrect format of accountId or siteId or zoneId."), !1; } var i = m(e, !0); return !!i && ("video" !== i || l(e)); }, buildRequests: operate buildRequests(e, l) { var n, r = e.filter(operate (e) { return "video" === m(e); }).map(operate (t) { t.startTime = new Date().getTime(); var e, r, i, n = { id: t.transactionId, take a look at: I.b.getConfig("debug") ? 1 : 0, cur: ["USD"], supply: { tid: t.transactionId }, tmax: l.timeout, imp: [{ exp: I.b.getConfig("s2sConfig.defaultTtl"), id: t.adUnitCode, secure: 1, ext: f({}, t.bidder, t.params), video: S.deepAccess(t, "mediaTypes.video") || {} }], ext: { prebid: { cache: { vastxml: { returnCreative: !0 === w.returnVast } }, concentrating on: { includewinners: !0, includebidderkeys: !1, pricegranularity: v(I.b) }, bidders: { rubicon: "pbjs" } } } }; if ("rubicon" !== t.bidder && (n.ext.prebid.aliases = f({}, t.bidder, "rubicon")), "operate" != typeof t.getFloor || w.disableFloors) e = parseFloat(S.deepAccess(t, "params.ground"));else { attempt { r = t.getFloor({ forex: "USD", mediaType: "video", dimension: O(t, "video") }); } catch (e) { S.logError("Rubicon: getFloor threw an error: ", e); } e = "object" !== E(r) || "USD" !== r.forex || isNaN(parseInt(r.ground)) ? void 0 : parseFloat(r.ground); } isNaN(e) || (n.imp[0].bidfloor = e), n.imp[0].ext[t.bidder].video.size_id = g(t), operate (r, t, e) { if (!r) return; "object" === E(I.b.getConfig("app")) ? r.app = I.b.getConfig("app") : r.web site = { web page: R(t, e) }; "object" === E(I.b.getConfig("machine")) && (r.machine = I.b.getConfig("machine")); t.params.video.language && ["site"https://slate.com/human-interest/2019/02/,"device"].forEach(operate (e) { r[e] && (r[e].content material = okay({ language: t.params.video.language }, r[e].content material)); }); }(n, t, l), operate (e, r) { "object" === E(e.imp[0].video) && void 0 === e.imp[0].video.skip && (e.imp[0].video.skip = r.params.video.skip); "object" === E(e.imp[0].video) && void 0 === e.imp[0].video.skipafter && (e.imp[0].video.skipafter = r.params.video.skipdelay); "object" === E(e.imp[0].video) && void 0 === e.imp[0].video.pos && ("atf" === r.params.place ? e.imp[0].video.pos = 1 : "btf" === r.params.place && (e.imp[0].video.pos = 3)); var t = O(r, "video"); e.imp[0].video.w = t[0], e.imp[0].video.h = t[1]; }(n, t), l.gdprConsent && ("boolean" == typeof l.gdprConsent.gdprApplies && (i = l.gdprConsent.gdprApplies ? 1 : 0), S.deepSetValue(n, "regs.ext.gdpr", i), S.deepSetValue(n, "consumer.ext.consent", l.gdprConsent.consentString)), l.uspConsent && S.deepSetValue(n, "regs.ext.us_privacy", l.uspConsent); var o, a = S.deepAccess(l, "bids.0.userIdAsEids"); a && a.size && (S.deepSetValue(n, "consumer.ext.eids", a), (o = C()(n.consumer.ext.eids, operate (e) { return "liveintent.com" === e.supply; })) && (S.deepSetValue(n, "consumer.ext.tpid", { supply: o.supply, uid: o.uids[0].id }), o.ext && o.ext.segments && S.deepSetValue(n, "rp.goal.LIseg", o.ext.segments))); var s = I.b.getConfig("consumer.id"); s && S.deepSetValue(n, "consumer.id", s), !0 === I.b.getConfig("coppa") && S.deepSetValue(n, "regs.coppa", 1), t.schain && T(t.schain) && S.deepSetValue(n, "supply.ext.schain", t.schain); var c, d = okay({}, t.params.stock, I.b.getConfig("fpd.context")), u = okay({}, t.params.customer, I.b.getConfig("fpd.consumer")); S.isEmpty(d) && S.isEmpty(u) || (c = { bidders: [l.bidderCode], config: { fpd: {} } }, S.isEmpty(d) || (c.config.fpd.web site = d), S.isEmpty(u) || (c.config.fpd.consumer = u), S.deepSetValue(n, "ext.prebid.bidderconfig.0", c)); var p = S.deepAccess(t, "fpd.context.pbAdSlot"); return "string" == typeof p && p && S.deepSetValue(n.imp[0].ext, "context.knowledge.pbadslot", p), ["name"https://slate.com/human-interest/2019/02/,"adSlot"].forEach(operate (e) { var r = S.deepAccess(t, "fpd.context.adserver.".concat(e)); "string" == typeof r && r && S.deepSetValue(n.imp[0].ext, "context.knowledge.adserver.".concat(e.toLowerCase()), r); }), t.storedAuctionResponse && S.deepSetValue(n.imp[0], "ext.prebid.storedauctionresponse.id", t.storedAuctionResponse.toString()), S.deepSetValue(n.imp[0], "ext.prebid.auctiontimestamp", l.auctionStart), ; }); return !0 !== w.singleRequest ? r.concat(e.filter(operate (e) { return "banner" === m(e); }).map(operate (e) { var i = z.createSlotParams(e, l); return "fastlane"https://slate.com/human-interest/2019/02/,".rubiconproject.com/a/api/fastlane.json"), knowledge: z.getOrderedParams(i).scale back(operate (e, r) , "") + "slots=1&rand=".concat(Math.random()), bidRequest: e ; })) : (n = e.filter(operate (e) { return "banner" === m(e); }).scale back(operate (e, r) , {}), r.concat(Object.keys(n).scale back(operate (r, e) { var t, i; return t = n[e], i = 10, t.map(operate (e, r) { return r % i == 0 ? t.slice(r, r + i) : null; }).filter(operate (e) { return e; }).forEach(operate (e) { var i = z.combineSlotUrlParams(e.map(operate (e) { return z.createSlotParams(e, l); })); r.push(); }), r; }, []))); }, getOrderedParams: operate getOrderedParams(e) { var r = /^tg_v/, t = /^tg_i/, i = ["account_id"https://slate.com/human-interest/2019/02/,"site_id"https://slate.com/human-interest/2019/02/,"zone_id"https://slate.com/human-interest/2019/02/,"size_id"https://slate.com/human-interest/2019/02/,"alt_size_ids"https://slate.com/human-interest/2019/02/,"p_pos"https://slate.com/human-interest/2019/02/,"gdpr"https://slate.com/human-interest/2019/02/,"gdpr_consent"https://slate.com/human-interest/2019/02/,"us_privacy"https://slate.com/human-interest/2019/02/,"rp_schain"https://slate.com/human-interest/2019/02/,"tpid_tdid"https://slate.com/human-interest/2019/02/,"tpid_liveintent.com"https://slate.com/human-interest/2019/02/,"tg_v.LIseg"https://slate.com/human-interest/2019/02/,"ppuid"https://slate.com/human-interest/2019/02/,"eid_pubcid.org"https://slate.com/human-interest/2019/02/,"eid_sharedid.org"https://slate.com/human-interest/2019/02/,"eid_criteo.com"https://slate.com/human-interest/2019/02/,"rf"https://slate.com/human-interest/2019/02/,"p_geo.latitude"https://slate.com/human-interest/2019/02/,"p_geo.longitude"https://slate.com/human-interest/2019/02/,"kw"].concat(Object.keys(e).filter(operate (e) { return r.take a look at(e); })).concat(Object.keys(e).filter(operate (e) { return t.take a look at(e); })).concat(["tk_flint"https://slate.com/human-interest/2019/02/,"x_source.tid"https://slate.com/human-interest/2019/02/,"x_source.pchain"https://slate.com/human-interest/2019/02/,"p_screen_res"https://slate.com/human-interest/2019/02/,"rp_floor"https://slate.com/human-interest/2019/02/,"rp_secure"https://slate.com/human-interest/2019/02/,"tk_user_key"]); return i.concat(Object.keys(e).filter(operate (e) { return -1 === i.indexOf(e); })); }, combineSlotUrlParams: operate combineSlotUrlParams(n) { if (1 === n.size) return n[0]; var i = n.scale back(operate (r, t, i) { return Object.keys(t).forEach(operate (e) (r[e] = new Array(n.size)), r[e].splice(i, 1, t[e]); ), r; }, {}), o = new RegExp("^([^;]*)(;1)+$"); return Object.keys(i).forEach(operate (e) { var r = i[e].be a part of(";"), t = r.match(o); i[e] = t ? t[1] : r; }), i; }, createSlotParams: operate createSlotParams(e, r) { e.startTime = new Date().getTime(); var t, i, n, o, a, s, c, d = e.params, u = O(e, "banner"), p = j(d.latLong || [], 2), l = p[0], f = p[1], m = ; if ("operate" == typeof e.getFloor && !w.disableFloors) { attempt { t = e.getFloor({ forex: "USD", mediaType: "banner", dimension: "*" }); } catch (e) { S.logError("Rubicon: getFloor threw an error: ", e); } m.rp_hard_floor = "object" !== E(t) || "USD" !== t.forex || isNaN(parseInt(t.ground)) ? void 0 : t.ground; } m.p_pos = "atf" === d.place || "btf" === d.place ? d.place : "", e.userIdAsEids && e.userIdAsEids.size && ((i = C()(e.userIdAsEids, operate (e) { return "adserver.org" === e.supply; })) && (m.tpid_tdid = i.uids[0].id), (n = C()(e.userIdAsEids, operate (e) { return "liveintent.com" === e.supply; })) && (m["tpid_liveintent.com"] = n.uids[0].id, n.ext && Array.isArray(n.ext.segments) && n.ext.segments.size && (m["tg_v.LIseg"] = n.ext.segments.be a part of(","))), (o = C()(e.userIdAsEids, operate (e) { return "liveramp.com" === e.supply; })) && (m.x_liverampidl = o.uids[0].id), (a = C()(e.userIdAsEids, operate (e) { return "sharedid.org" === e.supply; })) && (m["eid_sharedid.org"] = "".concat(a.uids[0].id, "^").concat(a.uids[0].atype, "^").concat(a.uids[0].ext.third)), (s = C()(e.userIdAsEids, operate (e) { return "pubcid.org" === e.supply; })) && (m["eid_pubcid.org"] = "".concat(s.uids[0].id, "^").concat(s.uids[0].atype)), (c = C()(e.userIdAsEids, operate (e) { return "criteo.com" === e.supply; })) && (m["eid_criteo.com"] = "".concat(c.uids[0].id, "^").concat(c.uids[0].atype))); var g = I.b.getConfig("consumer.id"); if (g) m.ppuid = g;else for (var v = 0; e.userIdAsEids && v < e.userIdAsEids.size; v++) { if (e.userIdAsEids[v].uids) { var b = C()(e.userIdAsEids[v].uids, operate (e) { return e.ext && "ppuid" === e.ext.stype; }); if (b && b.id) { m.ppuid = b.id; break; } } } r.gdprConsent && ("boolean" == typeof r.gdprConsent.gdprApplies && (m.gdpr = Quantity(r.gdprConsent.gdprApplies)), m.gdpr_consent = r.gdprConsent.consentString), r.uspConsent && (m.us_privacy = encodeURIComponent(r.uspConsent)); var y = okay({}, d.customer, I.b.getConfig("fpd.consumer")); Object.keys(y).forEach(operate (e) ); var x = okay({}, d.stock, I.b.getConfig("fpd.context")); Object.keys(x).forEach(operate (e) ); var h = (d.key phrases || []).concat(S.deepAccess(I.b.getConfig("fpd.consumer"), "key phrases") || [], S.deepAccess(I.b.getConfig("fpd.context"), "key phrases") || []); m.kw = Array.isArray(h) && h.size ? h.be a part of(",") : ""; var _ = S.deepAccess(e, "fpd.context.pbAdSlot"); "string" == typeof _ && _ && (m["tg_i.pbadslot"] = _.substitute(/^/+/, "")); var A = S.deepAccess(e, "fpd.context.adServer.adSlot"); return "string" == typeof A && A && (m["tg_i.dfp_ad_unit_code"] = A.substitute(/^/+/, "")), !0 === I.b.getConfig("coppa") && (m.coppa = 1), e.schain && T(e.schain) && (m.rp_schain = z.serializeSupplyChain(e.schain)), m; }, serializeSupplyChain: operate serializeSupplyChain(e) { if (!T(e)) return ""; var r = e.ver, t = e.full, i = e.nodes; return "".concat(r, ",").concat(t, "!").concat(z.serializeSupplyChainNodes(i)); }, serializeSupplyChainNodes: operate serializeSupplyChainNodes(e) { var t = ["asi"https://slate.com/human-interest/2019/02/,"sid"https://slate.com/human-interest/2019/02/,"hp"https://slate.com/human-interest/2019/02/,"rid"https://slate.com/human-interest/2019/02/,"name"https://slate.com/human-interest/2019/02/,"domain"]; return e.map(operate (r) { return t.map(operate (e) ).be a part of(","); }).be a part of("!"); }, interpretResponse: operate interpretResponse(c, e) { var d = e.bidRequest; if (!(c = c.physique) || "object" !== E(c)) return []; if (c.seatbid) { var r = S.deepAccess(c, "ext.errors.rubicon"); Array.isArray(r) && 0 < r.size && S.logWarn("Rubicon: Error in video response"); var o = []; return c.seatbid.forEach(operate (n) { (n.bid || []).forEach(operate (e) { var r = S.deepAccess(d, "params.video.playerHeight") ; e.id && (r.seatBidId = e.id), e.dealid && (r.dealId = e.dealid); var t, i = S.deepAccess(c, "ext.responsetimemillis.rubicon"); d && i && (d.serverResponseTimeMs = i), S.deepAccess(e, "ext.prebid.sort") === u.d ? (r.mediaType = u.d, (t = S.deepAccess(e, "ext.prebid.concentrating on")) && "object" === E(t) && (r.adserverTargeting = t), e.ext.prebid.cache && "object" === E(e.ext.prebid.cache.vastXml) && e.ext.prebid.cache.vastXml.cacheId && e.ext.prebid.cache.vastXml.url ? (r.videoCacheKey = e.ext.prebid.cache.vastXml.cacheId, r.vastUrl = e.ext.prebid.cache.vastXml.url) : t && t.hb_uuid && t.hb_cache_host && t.hb_cache_path && (r.videoCacheKey = t.hb_uuid, r.vastUrl = "https://".concat(t.hb_cache_host).concat(t.hb_cache_path, "?uuid=").concat(t.hb_uuid)), e.adm && (r.vastXml = e.adm), e.nurl && (r.vastUrl = e.nurl), !r.vastUrl && e.nurl && (r.vastUrl = e.nurl)) : S.logWarn("Rubicon: video response obtained non-video media sort"), o.push(r); }); }), o; } var t = c.adverts; return "object" !== E(d) || Array.isArray(d) || "video" !== m(d) || "object" !== E(t) || (t = t[d.adUnitCode]), !Array.isArray(t) || t.size < 1 ? [] : t.scale back(operate (e, r, t) { if ("okay" !== r.standing) return e; var i, n, o, a, s = Array.isArray(d) ? d[t] : d; return s && "object" === E(s) ? (i = { requestId: s.bidId, forex: "USD", creativeId: r.creative_id || "".concat(r.community || ""https://slate.com/human-interest/2019/02/,"-").concat(r.advertiser || ""), cpm: r.cpm || 0, dealId: r.deal, ttl: 300, netRevenue: !1 !== w.netRevenue, rubicon: { advertiserId: r.advertiser, networkId: r.community }, meta: { advertiserId: r.advertiser, networkId: r.community } }, r.creative_type && (i.mediaType = r.creative_type), r.creative_type === u.d ? (i.width = s.params.video.playerWidth, i.top = s.params.video.playerHeight, i.vastUrl = r.creative_depot_url, i.impression_id = r.impression_id, i.videoCacheKey = r.impression_id) : (i.advert = (o = r.script, a = r.impression_id, "n
nnx3c!-- Rubicon Venture Advert Tag --x3en
nn
n n")), n = j(p[r.size_id].cut up("x").map(operate (e) {
return Quantity(e);
}), 2), i.width = n[0], i.top = n[1]), i.rubiconTargeting = (Array.isArray(r.concentrating on) ? r.concentrating on : []).scale back(operate (e, r) {
return e[r.key] = r.values[0], e;
}, {
rpfl_elemid: s.adUnitCode
}), e.push(i)) : S.logError("Rubicon: bidRequest undefined at index place:".concat(t), d, c), e;
}, []).kind(operate (e, r) 0);
);
},
getUserSyncs: operate getUserSyncs(e, r, t, i) {
if (!y && e.iframeEnabled) {
var n = "";
return t && "string" == typeof t.consentString && ("boolean" == typeof t.gdprApplies ? n += "?gdpr=".concat(Quantity(t.gdprApplies), "&gdpr_consent=").concat(t.consentString) : n += "?gdpr_consent=".concat(t.consentString)), i && (n += "".concat(n ? "&" : "?"https://slate.com/human-interest/2019/02/,"us_privacy=").concat(encodeURIComponent(i))), y = !0, "eus"https://slate.com/human-interest/2019/02/,".rubiconproject.com/usync.html") + n
;
}
},
transformBidParams: operate transformBidParams(e) {
return S.convertTypes({
accountId: "quantity",
siteId: "quantity",
zoneId: "quantity"
}, e);
}
};
operate R(e, r) r.refererInfo.referer;
return e.params.safe ? t.substitute(/^http:/i, "https:") : t;
operate O(e, r) {
var t = e.params;
if ("video" === r) {
var i = [];
return t.video && t.video.playerWidth && t.video.playerHeight ? i = [t.video.playerWidth, t.video.playerHeight] : Array.isArray(S.deepAccess(e, "mediaTypes.video.playerSize")) && 1 === e.mediaTypes.video.playerSize.size ? i = e.mediaTypes.video.playerSize[0] : Array.isArray(e.sizes) && 0 < e.sizes.size && Array.isArray(e.sizes[0]) && 1 < e.sizes[0].size && (i = e.sizes[0]), i; } var n = []; return Array.isArray(t.sizes) ? n = t.sizes : void 0 !== S.deepAccess(e, "mediaTypes.banner.sizes") ? n = a(e.mediaTypes.banner.sizes) : Array.isArray(e.sizes) && 0 < e.sizes.size ? n = a(e.sizes) : S.logWarn("Rubicon: no sizes are setup or discovered"), d(n); } operate a(e) { return S.parseSizesInput(e).scale back(operate (e, r) { var t = parseInt(p[r], 10); return t && e.push(t), e; }, []); } operate s(e) { return "object" === E(S.deepAccess(e, "params.video")) && void 0 !== S.deepAccess(e, "mediaTypes.".concat(u.d)); } operate m(e, r) { var t = 1 < arguments.size && void 0 !== r && r; return s(e) ? -1 === ["outstream"https://slate.com/human-interest/2019/02/,"instream"].indexOf(S.deepAccess(e, "mediaTypes.".concat(u.d, ".context"))) ? void (t && S.logError("Rubicon: mediaTypes.video.context should be outstream or instream")) : O(e, "video").size < 2 ? void (t && S.logError("Rubicon: couldn't decide the playerSize of the video")) : (t && S.logMessage("Rubicon: making video request for adUnit", e.adUnitCode), "video") : 0 === O(e, "banner").size ? void (t && S.logError("Rubicon: couldn't decide the sizes for banner request")) : (t && S.logMessage("Rubicon: making banner request for adUnit", e.adUnitCode), "banner"); } var c = operate c() { return w = {}; }; operate d(e) { var n = [15, 2, 9]; return e.kind(operate (e, r) ); } function g(e) { var r = parseInt(S.deepAccess(e, "params.video.size_id")); return isNaN(r) ? "outstream" === S.deepAccess(e, "mediaTypes.".concat(u.d, ".context")) ? 203 : 201 : r; } function v(e) { return { ranges: { low: [{ max: 5, increment: .5 }], medium: [{ max: 20, increment: .1 }], high: [{ max: 20, increment: .01 }], auto: [{ max: 5, increment: .05 }, { min: 5, max: 10, increment: .1 }, { min: 10, max: 20, increment: .5 }], dense: [{ max: 3, increment: .01 }, { min: 3, max: 8, increment: .05 }, { min: 8, max: 20, increment: .5 }], custom: e.getConfig("customPriceBucket") && e.getConfig("customPriceBucket").buckets }[e.getConfig("priceGranularity")] }; } function l(r) { var t = !0, e = Object.prototype.toString.call([]), i = Object.prototype.toString.call(0), n = { mimes: e, protocols: e, maxduration: i, linearity: i, api: e }; return Object.keys(n).forEach(function (e) { Object.prototype.toString.call(S.deepAccess(r, "mediaTypes.video." + e)) !== n[e] && (t = !1, S.logError("Rubicon: mediaTypes.video." + e + " is required and must be of type: " + n[e])); }), t; } function T(e) { var r = !1, t = ["asi"https://slate.com/human-interest/2019/02/,"sid"https://slate.com/human-interest/2019/02/,"hp"]; return e.nodes && ((r = e.nodes.reduce(function (e, r) { return e ? t.every(function (e) { return r.hasOwnProperty(e); }) : e; }, !0)) || S.logError("Rubicon: required schain params missing")), r; } function b(e, r) { return "rp_schain" === e ? "rp_schain=".concat(r) : "".concat(e, "=").concat(encodeURIComponent(r)); } var y = !1; Object(i.registerBidder)(z); } }, [720]); pbjsChunk([105], { 770: function _(e, t, r) { e.exports = r(771); }, 771: function _(e, t, r) { "use strict"; Object.defineProperty(t, "__esModule", { value: !0 }), r.d(t, "spec", function () { return a; }), r.d(t, "_isInbounds", function () { return m; }), t._getPlatform = v; var n = r(1), y = r(0), i = r(2), o = r(3), g = r(11), c = r(43); function h(e, t) { return function (e) { if (Array.isArray(e)) return e; }(e) || function (e, t) { if ("undefined" == typeof Symbol || !(Symbol.iterator in Object(e))) return; var r = [], n = !0, i = !1, s = void 0; try { for (var a, o = e[Symbol.iterator](); !(n = (a = o.next()).done) && (r.push(a.value), !t || r.length !== t); n = !0) { ; } } catch (e) { i = !0, s = e; } finally { try null == o.return finally { if (i) throw s; } } return r; }(e, t) || function (e, t) 32)(?:Clamped)?Array$/.test(r)) return s(e, t); (e, t) || function () { throw new TypeError("Invalid attempt to destructure non-iterable instance.nIn order to be iterable, non-array objects must have a [Symbol.iterator]() method."); }(); } function s(e, t) { (null == t || t > e.size) && (t = e.size);
for (var r = 0, n = new Array(t); r < t; r++) { n[r] = e[r]; } return n; } operate d() { return (d = Object.assign || operate (e) { for (var t = 1; t < arguments.size; t++) { var r = arguments[t]; for (var n in r) { Object.prototype.hasOwnProperty.name(r, n) && (e[n] = r[n]); } } return e; }).apply(this, arguments); } operate u(e, t, r) { return t in e ? Object.defineProperty(e, t, { worth: r, enumerable: !0, configurable: !0, writable: !0 }) : e[t] = r, e; } var p = "sonobi", b = Object(y.generateUUID)(), a = { code: p, supportedMediaTypes: [i.b, i.d], isBidRequestValid: operate isBidRequestValid(e) { if (!e.params) return !1; if (!e.params.ad_unit && !e.params.placement_id) return !1; if (!Object(y.deepAccess)(e, "mediaTypes.banner") && !Object(y.deepAccess)(e, "mediaTypes.video")) return !1; if (Object(y.deepAccess)(e, "mediaTypes.banner")) { if (!Object(y.deepAccess)(e, "mediaTypes.banner.sizes") && !e.params.sizes) return !1; } else if (Object(y.deepAccess)(e, "mediaTypes.video")) { if ("outstream" === Object(y.deepAccess)(e, "mediaTypes.video.context") && !e.params.sizes) return !1; if ("instream" === Object(y.deepAccess)(e, "mediaTypes.video.context") && !Object(y.deepAccess)(e, "mediaTypes.video.playerSize")) return !1; } return !0; }, buildRequests: operate buildRequests(e, t) { var r = e.map(operate (e) { var t = operate (e) { if (e.params.ad_unit) return e.params.ad_unit; return e.params.placement_id; }(e); return /^[/]?[d]+[[/].+[/]?]?$/.take a look at(t) ? (t = "/" === t.charAt(0) ? t : "/" + t, u({}, "".concat(t, "|").concat(e.bidId), "".concat(l(e)).concat(f(e)))) : /^[0-9a-fA-F]{20}$/.take a look at(t) && 20 === t.size ? u({}, e.bidId, "".concat(t, "|").concat(l(e)).concat(f(e))) : void Object(y.logError)("The advert unit code or Sonobi Placement id for slot ".concat(e.bidId, " is invalid")); }), n = {}; r.forEach(operate (e) { d(n, e); }); var i = { key_maker: JSON.stringify(n), ref: t.refererInfo.referer, s: Object(y.generateUUID)(), pv: b, vp: v(), lib_name: "prebid", lib_v: "4.13.0", us: 0 }; o.b.getConfig("userSync") && o.b.getConfig("userSync").syncsPerBidder && (i.us = o.b.getConfig("userSync").syncsPerBidder), c.a.canBidderRegisterSync("iframe", p) ? i.ius = 1 : i.ius = 0, Object(y.deepAccess)(e[0], "params.hfa") && (i.hfa = Object(y.deepAccess)(e[0], "params.hfa")), e[0].params.referrer && (i.ref = e[0].params.referrer), t && t.gdprConsent && (i.gdpr = t.gdprConsent.gdprApplies ? "true" : "false", t.gdprConsent.consentString && (i.consent_string = t.gdprConsent.consentString)), e[0].schain && (i.schain = JSON.stringify(e[0].schain)), Object(y.deepAccess)(e[0], "userId") && 0 < Object.keys(e[0].userId).size && (i.userid = JSON.stringify(e[0].userId)); var s = e[0].params.key phrases; if (s && (i.kw = s), t && t.uspConsent && (i.us_privacy = t.uspConsent), Object(y.isEmpty)(n)) return null; var a = "https://apex.go.sonobi.com/trinity.json"; return Object(y.deepAccess)(e[0], "params.bid_request_url") && (a = Object(y.deepAccess)(e[0], "params.bid_request_url")), { technique: "GET", url: a, withCredentials: !0, knowledge: i, bidderRequests: e }; }, interpretResponse: operate interpretResponse(e, l) { var f = e.physique, m = [], v = l.knowledge.ref; return 0 === Object.keys(f.slots).size || Object.keys(f.slots).forEach(operate (e) { var t = f.slots[e], r = e.cut up("|").slice(-1)[0], n = operate (e, t) { for (var r = 0; r < e.size; r++) { if (e[r].bidId === t) return e[r]; } }(l.bidderRequests, r), i = null; "video" === t.sbi_ct && (i = "video"https://slate.com/human-interest/2019/02/,"outstream" === Object(y.deepAccess)(n, "mediaTypes.video.context") && (i = "outstream")); var s, a, o, c, d, u, p, b = j(i, v); t.sbi_aid && t.sbi_mouse && t.sbi_size && (o = void 0 === (a = (s = h(t.sbi_size.cut up("x"), 2))[0]) ? 1 : a, d = void 0 === (c = s[1]) ? 1 : c, u = , t.sbi_dozer && (u.dealId = t.sbi_dozer), "video" === i ? (u.mediaType = "video", u.vastUrl = b(f.sbi_dc, t.sbi_aid), delete u.advert, delete u.width, delete u.top) : "outstream" === i && n && (u.mediaType = "video", u.vastUrl = b(f.sbi_dc, t.sbi_aid), u.renderer = operate (e, t) { var r = 2 < arguments.size && void 0 !== arguments[2] ? arguments[2] : {}, n = g.a.set up({ id: t.support, url: "https://mtrx.go.sonobi.com/sbi_outstream_renderer.js", config: r, loaded: !1, adUnitCode: e }); attempt { n.setRender(O); } catch (e) { Object(y.logWarn)("Prebid Error calling setRender on renderer", e); } return n.setEventHandlers({ impression: operate impression() { return Object(y.logMessage)("Sonobi outstream video impression occasion"); }, loaded: operate loaded() { return Object(y.logMessage)("Sonobi outstream video loaded occasion"); }, ended: operate ended() { Object(y.logMessage)("Sonobi outstream renderer video occasion"); } }), n; }(n.adUnitCode, u, Object(y.deepAccess)(n, "renderer.choices")), p = Object(y.deepAccess)(n, "params.sizes"), Array.isArray(p) && Array.isArray(p[0]) && (p = p[0]), p && (u.width = p[0], u.top = p[1])), m.push(u)); }), m; }, getUserSyncs: operate getUserSyncs(e, t) { var r = []; attempt { e.pixelEnabled && t[0].physique.sbi_px.forEach(operate (e) { r.push({ sort: e.sort, url: e.url }); }); } catch (e) {} return r; } }; operate l(e) { return Object(y.deepAccess)(e, "mediaTypes.video") ? "" : e.params.sizes ? Object(y.parseSizesInput)(e.params.sizes).be a part of(",") : Object(y.deepAccess)(e, "mediaTypes.banner.sizes") ? Object(y.parseSizesInput)(Object(y.deepAccess)(e, "mediaTypes.banner.sizes")).be a part of(",") : e.sizes ? Object(y.parseSizesInput)(e.sizes).be a part of(",") : void 0; } operate f(e) f=".concat(e.params.ground) : ""; var j = operate j(i, s) { return operate (e, t) "outstream" === i ? (r = t, n = s, "https://".concat(e, "apex.go.sonobi.com/huge.xml?vid=").concat(r, "&ref=").concat(encodeURIComponent(n))) : '';
var r, n;
;
};
var m = operate m(e) {
var r = 0 < arguments.size && void 0 !== e ? e : window; return operate () { var e = 0 < arguments.size && void 0 !== arguments[0] ? arguments[0] : 0, t = 1 < arguments.length && void 0 !== arguments[1] ? arguments[1] : Number.MAX_SAFE_INTEGER; return r.innerWidth >= e && r.innerWidth < t; }; }; operate v() { var e = 0 < arguments.size && void 0 !== arguments[0] ? arguments[0] : window, t = m(e), r = 992, n = 768; return t(0, 768) ? "cellular" : t(n, r) ? "pill" : "desktop"; } operate O(i) { i.renderer.push(operate () { var e = h(i.getSize().cut up("x"), 2), t = e[0], r = e[1], n = new window.SbiOutstreamRenderer(); n.init({ vastUrl: i.vastUrl, top: r, width: t }), n.setRootElement(i.adUnitCode); }); } Object(n.registerBidder)(a); } }, [770]); pbjsChunk([103], { 780: operate _(e, t, r) { e.exports = r(781); }, 781: operate _(e, t, r) { "use strict"; Object.defineProperty(t, "__esModule", { worth: !0 }), r.d(t, "GOOGLE_CONSENT", operate () { return B; }), r.d(t, "spec", operate () { return n; }); var I = r(0), P = r(3), u = r(11), a = r(1), c = r(2); operate d(e) { return (d = "operate" == typeof Image && "image" == _typeof(Image.iterator) ? operate (e) { return _typeof(e); } : operate (e) { return e && "operate" == typeof Image && e.constructor === Image && e !== Image.prototype ? "image" : _typeof(e); })(e); } var i = "spotx", B = { consented_providers: ["3"https://slate.com/human-interest/2019/02/,"7"https://slate.com/human-interest/2019/02/,"11"https://slate.com/human-interest/2019/02/,"12"https://slate.com/human-interest/2019/02/,"15"https://slate.com/human-interest/2019/02/,"20"https://slate.com/human-interest/2019/02/,"22"https://slate.com/human-interest/2019/02/,"35"https://slate.com/human-interest/2019/02/,"43"https://slate.com/human-interest/2019/02/,"46"https://slate.com/human-interest/2019/02/,"48"https://slate.com/human-interest/2019/02/,"55"https://slate.com/human-interest/2019/02/,"57"https://slate.com/human-interest/2019/02/,"61"https://slate.com/human-interest/2019/02/,"62"https://slate.com/human-interest/2019/02/,"66"https://slate.com/human-interest/2019/02/,"70"https://slate.com/human-interest/2019/02/,"80"https://slate.com/human-interest/2019/02/,"83"https://slate.com/human-interest/2019/02/,"85"https://slate.com/human-interest/2019/02/,"86"https://slate.com/human-interest/2019/02/,"89"https://slate.com/human-interest/2019/02/,"93"https://slate.com/human-interest/2019/02/,"108"https://slate.com/human-interest/2019/02/,"122"https://slate.com/human-interest/2019/02/,"124"https://slate.com/human-interest/2019/02/,"125"https://slate.com/human-interest/2019/02/,"126"https://slate.com/human-interest/2019/02/,"131"https://slate.com/human-interest/2019/02/,"134"https://slate.com/human-interest/2019/02/,"135"https://slate.com/human-interest/2019/02/,"136"https://slate.com/human-interest/2019/02/,"143"https://slate.com/human-interest/2019/02/,"144"https://slate.com/human-interest/2019/02/,"147"https://slate.com/human-interest/2019/02/,"149"https://slate.com/human-interest/2019/02/,"153"https://slate.com/human-interest/2019/02/,"154"https://slate.com/human-interest/2019/02/,"159"https://slate.com/human-interest/2019/02/,"161"https://slate.com/human-interest/2019/02/,"162"https://slate.com/human-interest/2019/02/,"165"https://slate.com/human-interest/2019/02/,"167"https://slate.com/human-interest/2019/02/,"171"https://slate.com/human-interest/2019/02/,"178"https://slate.com/human-interest/2019/02/,"184"https://slate.com/human-interest/2019/02/,"188"https://slate.com/human-interest/2019/02/,"192"https://slate.com/human-interest/2019/02/,"195"https://slate.com/human-interest/2019/02/,"196"https://slate.com/human-interest/2019/02/,"202"https://slate.com/human-interest/2019/02/,"209"https://slate.com/human-interest/2019/02/,"211"https://slate.com/human-interest/2019/02/,"218"https://slate.com/human-interest/2019/02/,"221"https://slate.com/human-interest/2019/02/,"228"https://slate.com/human-interest/2019/02/,"229"https://slate.com/human-interest/2019/02/,"230"https://slate.com/human-interest/2019/02/,"236"https://slate.com/human-interest/2019/02/,"239"https://slate.com/human-interest/2019/02/,"241"https://slate.com/human-interest/2019/02/,"253"https://slate.com/human-interest/2019/02/,"255"https://slate.com/human-interest/2019/02/,"259"https://slate.com/human-interest/2019/02/,"266"https://slate.com/human-interest/2019/02/,"271"https://slate.com/human-interest/2019/02/,"272"https://slate.com/human-interest/2019/02/,"274"https://slate.com/human-interest/2019/02/,"286"https://slate.com/human-interest/2019/02/,"291"https://slate.com/human-interest/2019/02/,"294"https://slate.com/human-interest/2019/02/,"303"https://slate.com/human-interest/2019/02/,"308"https://slate.com/human-interest/2019/02/,"310"https://slate.com/human-interest/2019/02/,"311"https://slate.com/human-interest/2019/02/,"313"https://slate.com/human-interest/2019/02/,"314"https://slate.com/human-interest/2019/02/,"316"https://slate.com/human-interest/2019/02/,"317"https://slate.com/human-interest/2019/02/,"322"https://slate.com/human-interest/2019/02/,"323"https://slate.com/human-interest/2019/02/,"327"https://slate.com/human-interest/2019/02/,"336"https://slate.com/human-interest/2019/02/,"338"https://slate.com/human-interest/2019/02/,"340"https://slate.com/human-interest/2019/02/,"348"https://slate.com/human-interest/2019/02/,"350"https://slate.com/human-interest/2019/02/,"358"https://slate.com/human-interest/2019/02/,"359"https://slate.com/human-interest/2019/02/,"363"https://slate.com/human-interest/2019/02/,"367"https://slate.com/human-interest/2019/02/,"370"https://slate.com/human-interest/2019/02/,"371"https://slate.com/human-interest/2019/02/,"384"https://slate.com/human-interest/2019/02/,"385"https://slate.com/human-interest/2019/02/,"389"https://slate.com/human-interest/2019/02/,"393"https://slate.com/human-interest/2019/02/,"394"https://slate.com/human-interest/2019/02/,"397"https://slate.com/human-interest/2019/02/,"398"https://slate.com/human-interest/2019/02/,"407"https://slate.com/human-interest/2019/02/,"414"https://slate.com/human-interest/2019/02/,"415"https://slate.com/human-interest/2019/02/,"424"https://slate.com/human-interest/2019/02/,"429"https://slate.com/human-interest/2019/02/,"430"https://slate.com/human-interest/2019/02/,"432"https://slate.com/human-interest/2019/02/,"436"https://slate.com/human-interest/2019/02/,"438"https://slate.com/human-interest/2019/02/,"440"https://slate.com/human-interest/2019/02/,"442"https://slate.com/human-interest/2019/02/,"443"https://slate.com/human-interest/2019/02/,"445"https://slate.com/human-interest/2019/02/,"448"https://slate.com/human-interest/2019/02/,"449"https://slate.com/human-interest/2019/02/,"453"https://slate.com/human-interest/2019/02/,"459"https://slate.com/human-interest/2019/02/,"479"https://slate.com/human-interest/2019/02/,"482"https://slate.com/human-interest/2019/02/,"486"https://slate.com/human-interest/2019/02/,"491"https://slate.com/human-interest/2019/02/,"492"https://slate.com/human-interest/2019/02/,"494"https://slate.com/human-interest/2019/02/,"495"https://slate.com/human-interest/2019/02/,"503"https://slate.com/human-interest/2019/02/,"505"https://slate.com/human-interest/2019/02/,"510"https://slate.com/human-interest/2019/02/,"522"https://slate.com/human-interest/2019/02/,"523"https://slate.com/human-interest/2019/02/,"528"https://slate.com/human-interest/2019/02/,"537"https://slate.com/human-interest/2019/02/,"540"https://slate.com/human-interest/2019/02/,"550"https://slate.com/human-interest/2019/02/,"559"https://slate.com/human-interest/2019/02/,"560"https://slate.com/human-interest/2019/02/,"568"https://slate.com/human-interest/2019/02/,"571"https://slate.com/human-interest/2019/02/,"574"https://slate.com/human-interest/2019/02/,"575"https://slate.com/human-interest/2019/02/,"576"https://slate.com/human-interest/2019/02/,"584"https://slate.com/human-interest/2019/02/,"585"https://slate.com/human-interest/2019/02/,"587"https://slate.com/human-interest/2019/02/,"588"https://slate.com/human-interest/2019/02/,"590"https://slate.com/human-interest/2019/02/,"591"https://slate.com/human-interest/2019/02/,"592"https://slate.com/human-interest/2019/02/,"595"https://slate.com/human-interest/2019/02/,"609"https://slate.com/human-interest/2019/02/,"621"https://slate.com/human-interest/2019/02/,"624"https://slate.com/human-interest/2019/02/,"723"https://slate.com/human-interest/2019/02/,"725"https://slate.com/human-interest/2019/02/,"733"https://slate.com/human-interest/2019/02/,"737"https://slate.com/human-interest/2019/02/,"776"https://slate.com/human-interest/2019/02/,"780"https://slate.com/human-interest/2019/02/,"782"https://slate.com/human-interest/2019/02/,"787"https://slate.com/human-interest/2019/02/,"797"https://slate.com/human-interest/2019/02/,"798"https://slate.com/human-interest/2019/02/,"802"https://slate.com/human-interest/2019/02/,"803"https://slate.com/human-interest/2019/02/,"814"https://slate.com/human-interest/2019/02/,"817"https://slate.com/human-interest/2019/02/,"820"https://slate.com/human-interest/2019/02/,"821"https://slate.com/human-interest/2019/02/,"827"https://slate.com/human-interest/2019/02/,"829"https://slate.com/human-interest/2019/02/,"839"https://slate.com/human-interest/2019/02/,"853"https://slate.com/human-interest/2019/02/,"864"https://slate.com/human-interest/2019/02/,"867"https://slate.com/human-interest/2019/02/,"874"https://slate.com/human-interest/2019/02/,"899"https://slate.com/human-interest/2019/02/,"904"https://slate.com/human-interest/2019/02/,"922"https://slate.com/human-interest/2019/02/,"926"https://slate.com/human-interest/2019/02/,"931"https://slate.com/human-interest/2019/02/,"932"https://slate.com/human-interest/2019/02/,"933"https://slate.com/human-interest/2019/02/,"938"https://slate.com/human-interest/2019/02/,"955"https://slate.com/human-interest/2019/02/,"973"https://slate.com/human-interest/2019/02/,"976"https://slate.com/human-interest/2019/02/,"979"https://slate.com/human-interest/2019/02/,"981"https://slate.com/human-interest/2019/02/,"985"https://slate.com/human-interest/2019/02/,"987"https://slate.com/human-interest/2019/02/,"991"https://slate.com/human-interest/2019/02/,"1003"https://slate.com/human-interest/2019/02/,"1024"https://slate.com/human-interest/2019/02/,"1025"https://slate.com/human-interest/2019/02/,"1027"https://slate.com/human-interest/2019/02/,"1028"https://slate.com/human-interest/2019/02/,"1029"https://slate.com/human-interest/2019/02/,"1033"https://slate.com/human-interest/2019/02/,"1034"https://slate.com/human-interest/2019/02/,"1040"https://slate.com/human-interest/2019/02/,"1047"https://slate.com/human-interest/2019/02/,"1048"https://slate.com/human-interest/2019/02/,"1051"https://slate.com/human-interest/2019/02/,"1052"https://slate.com/human-interest/2019/02/,"1053"https://slate.com/human-interest/2019/02/,"1054"https://slate.com/human-interest/2019/02/,"1062"https://slate.com/human-interest/2019/02/,"1063"https://slate.com/human-interest/2019/02/,"1067"https://slate.com/human-interest/2019/02/,"1072"https://slate.com/human-interest/2019/02/,"1085"https://slate.com/human-interest/2019/02/,"1092"https://slate.com/human-interest/2019/02/,"1095"https://slate.com/human-interest/2019/02/,"1097"https://slate.com/human-interest/2019/02/,"1099"https://slate.com/human-interest/2019/02/,"1100"https://slate.com/human-interest/2019/02/,"1107"https://slate.com/human-interest/2019/02/,"1126"https://slate.com/human-interest/2019/02/,"1127"https://slate.com/human-interest/2019/02/,"1143"https://slate.com/human-interest/2019/02/,"1149"https://slate.com/human-interest/2019/02/,"1152"https://slate.com/human-interest/2019/02/,"1162"https://slate.com/human-interest/2019/02/,"1166"https://slate.com/human-interest/2019/02/,"1167"https://slate.com/human-interest/2019/02/,"1170"https://slate.com/human-interest/2019/02/,"1171"https://slate.com/human-interest/2019/02/,"1172"https://slate.com/human-interest/2019/02/,"1188"https://slate.com/human-interest/2019/02/,"1192"https://slate.com/human-interest/2019/02/,"1199"https://slate.com/human-interest/2019/02/,"1201"https://slate.com/human-interest/2019/02/,"1204"https://slate.com/human-interest/2019/02/,"1205"https://slate.com/human-interest/2019/02/,"1211"https://slate.com/human-interest/2019/02/,"1212"https://slate.com/human-interest/2019/02/,"1215"https://slate.com/human-interest/2019/02/,"1220"https://slate.com/human-interest/2019/02/,"1225"https://slate.com/human-interest/2019/02/,"1226"https://slate.com/human-interest/2019/02/,"1227"https://slate.com/human-interest/2019/02/,"1230"https://slate.com/human-interest/2019/02/,"1232"https://slate.com/human-interest/2019/02/,"1236"https://slate.com/human-interest/2019/02/,"1241"https://slate.com/human-interest/2019/02/,"1248"https://slate.com/human-interest/2019/02/,"1250"https://slate.com/human-interest/2019/02/,"1252"https://slate.com/human-interest/2019/02/,"1268"https://slate.com/human-interest/2019/02/,"1275"https://slate.com/human-interest/2019/02/,"1276"https://slate.com/human-interest/2019/02/,"1284"https://slate.com/human-interest/2019/02/,"1286"https://slate.com/human-interest/2019/02/,"1298"https://slate.com/human-interest/2019/02/,"1301"https://slate.com/human-interest/2019/02/,"1307"https://slate.com/human-interest/2019/02/,"1312"https://slate.com/human-interest/2019/02/,"1313"https://slate.com/human-interest/2019/02/,"1317"https://slate.com/human-interest/2019/02/,"1329"https://slate.com/human-interest/2019/02/,"1336"https://slate.com/human-interest/2019/02/,"1344"https://slate.com/human-interest/2019/02/,"1345"https://slate.com/human-interest/2019/02/,"1356"https://slate.com/human-interest/2019/02/,"1362"https://slate.com/human-interest/2019/02/,"1365"https://slate.com/human-interest/2019/02/,"1375"https://slate.com/human-interest/2019/02/,"1403"https://slate.com/human-interest/2019/02/,"1409"https://slate.com/human-interest/2019/02/,"1411"https://slate.com/human-interest/2019/02/,"1415"https://slate.com/human-interest/2019/02/,"1416"https://slate.com/human-interest/2019/02/,"1419"https://slate.com/human-interest/2019/02/,"1423"https://slate.com/human-interest/2019/02/,"1440"https://slate.com/human-interest/2019/02/,"1442"https://slate.com/human-interest/2019/02/,"1449"https://slate.com/human-interest/2019/02/,"1451"https://slate.com/human-interest/2019/02/,"1455"https://slate.com/human-interest/2019/02/,"1456"https://slate.com/human-interest/2019/02/,"1468"https://slate.com/human-interest/2019/02/,"1496"https://slate.com/human-interest/2019/02/,"1503"https://slate.com/human-interest/2019/02/,"1509"https://slate.com/human-interest/2019/02/,"1512"https://slate.com/human-interest/2019/02/,"1514"https://slate.com/human-interest/2019/02/,"1517"https://slate.com/human-interest/2019/02/,"1520"https://slate.com/human-interest/2019/02/,"1525"https://slate.com/human-interest/2019/02/,"1540"https://slate.com/human-interest/2019/02/,"1547"https://slate.com/human-interest/2019/02/,"1548"https://slate.com/human-interest/2019/02/,"1555"https://slate.com/human-interest/2019/02/,"1558"https://slate.com/human-interest/2019/02/,"1570"https://slate.com/human-interest/2019/02/,"1575"https://slate.com/human-interest/2019/02/,"1577"https://slate.com/human-interest/2019/02/,"1579"https://slate.com/human-interest/2019/02/,"1583"https://slate.com/human-interest/2019/02/,"1584"https://slate.com/human-interest/2019/02/,"1591"https://slate.com/human-interest/2019/02/,"1598"https://slate.com/human-interest/2019/02/,"1603"https://slate.com/human-interest/2019/02/,"1608"https://slate.com/human-interest/2019/02/,"1613"https://slate.com/human-interest/2019/02/,"1616"https://slate.com/human-interest/2019/02/,"1626"https://slate.com/human-interest/2019/02/,"1631"https://slate.com/human-interest/2019/02/,"1633"https://slate.com/human-interest/2019/02/,"1638"https://slate.com/human-interest/2019/02/,"1642"https://slate.com/human-interest/2019/02/,"1648"https://slate.com/human-interest/2019/02/,"1651"https://slate.com/human-interest/2019/02/,"1652"https://slate.com/human-interest/2019/02/,"1653"https://slate.com/human-interest/2019/02/,"1660"https://slate.com/human-interest/2019/02/,"1665"https://slate.com/human-interest/2019/02/,"1667"https://slate.com/human-interest/2019/02/,"1669"https://slate.com/human-interest/2019/02/,"1671"https://slate.com/human-interest/2019/02/,"1674"https://slate.com/human-interest/2019/02/,"1677"https://slate.com/human-interest/2019/02/,"1678"https://slate.com/human-interest/2019/02/,"1682"https://slate.com/human-interest/2019/02/,"1684"https://slate.com/human-interest/2019/02/,"1697"https://slate.com/human-interest/2019/02/,"1703"https://slate.com/human-interest/2019/02/,"1705"https://slate.com/human-interest/2019/02/,"1716"https://slate.com/human-interest/2019/02/,"1720"https://slate.com/human-interest/2019/02/,"1721"https://slate.com/human-interest/2019/02/,"1722"https://slate.com/human-interest/2019/02/,"1725"https://slate.com/human-interest/2019/02/,"1732"https://slate.com/human-interest/2019/02/,"1733"https://slate.com/human-interest/2019/02/,"1735"https://slate.com/human-interest/2019/02/,"1739"https://slate.com/human-interest/2019/02/,"1741"https://slate.com/human-interest/2019/02/,"1745"https://slate.com/human-interest/2019/02/,"1750"https://slate.com/human-interest/2019/02/,"1753"https://slate.com/human-interest/2019/02/,"1760"https://slate.com/human-interest/2019/02/,"1765"https://slate.com/human-interest/2019/02/,"1769"https://slate.com/human-interest/2019/02/,"1776"https://slate.com/human-interest/2019/02/,"1780"https://slate.com/human-interest/2019/02/,"1782"https://slate.com/human-interest/2019/02/,"1786"https://slate.com/human-interest/2019/02/,"1791"https://slate.com/human-interest/2019/02/,"1794"https://slate.com/human-interest/2019/02/,"1799"https://slate.com/human-interest/2019/02/,"1800"https://slate.com/human-interest/2019/02/,"1801"https://slate.com/human-interest/2019/02/,"1810"https://slate.com/human-interest/2019/02/,"1827"https://slate.com/human-interest/2019/02/,"1831"https://slate.com/human-interest/2019/02/,"1832"https://slate.com/human-interest/2019/02/,"1834"https://slate.com/human-interest/2019/02/,"1837"https://slate.com/human-interest/2019/02/,"1840"https://slate.com/human-interest/2019/02/,"1843"https://slate.com/human-interest/2019/02/,"1844"https://slate.com/human-interest/2019/02/,"1845"https://slate.com/human-interest/2019/02/,"1858"https://slate.com/human-interest/2019/02/,"1859"https://slate.com/human-interest/2019/02/,"1863"https://slate.com/human-interest/2019/02/,"1866"https://slate.com/human-interest/2019/02/,"1870"https://slate.com/human-interest/2019/02/,"1872"https://slate.com/human-interest/2019/02/,"1875"https://slate.com/human-interest/2019/02/,"1878"https://slate.com/human-interest/2019/02/,"1880"https://slate.com/human-interest/2019/02/,"1882"https://slate.com/human-interest/2019/02/,"1883"https://slate.com/human-interest/2019/02/,"1889"https://slate.com/human-interest/2019/02/,"1892"https://slate.com/human-interest/2019/02/,"1896"https://slate.com/human-interest/2019/02/,"1898"https://slate.com/human-interest/2019/02/,"1899"https://slate.com/human-interest/2019/02/,"1902"https://slate.com/human-interest/2019/02/,"1905"https://slate.com/human-interest/2019/02/,"1911"https://slate.com/human-interest/2019/02/,"1922"https://slate.com/human-interest/2019/02/,"1928"https://slate.com/human-interest/2019/02/,"1929"https://slate.com/human-interest/2019/02/,"1934"https://slate.com/human-interest/2019/02/,"1942"https://slate.com/human-interest/2019/02/,"1943"https://slate.com/human-interest/2019/02/,"1944"https://slate.com/human-interest/2019/02/,"1945"https://slate.com/human-interest/2019/02/,"1958"https://slate.com/human-interest/2019/02/,"1960"https://slate.com/human-interest/2019/02/,"1962"https://slate.com/human-interest/2019/02/,"1963"https://slate.com/human-interest/2019/02/,"1964"https://slate.com/human-interest/2019/02/,"1967"https://slate.com/human-interest/2019/02/,"1968"https://slate.com/human-interest/2019/02/,"1978"https://slate.com/human-interest/2019/02/,"1985"https://slate.com/human-interest/2019/02/,"1986"https://slate.com/human-interest/2019/02/,"1987"https://slate.com/human-interest/2019/02/,"1998"https://slate.com/human-interest/2019/02/,"2003"https://slate.com/human-interest/2019/02/,"2007"https://slate.com/human-interest/2019/02/,"2012"https://slate.com/human-interest/2019/02/,"2013"https://slate.com/human-interest/2019/02/,"2027"https://slate.com/human-interest/2019/02/,"2035"https://slate.com/human-interest/2019/02/,"2038"https://slate.com/human-interest/2019/02/,"2039"https://slate.com/human-interest/2019/02/,"2044"https://slate.com/human-interest/2019/02/,"2047"https://slate.com/human-interest/2019/02/,"2052"https://slate.com/human-interest/2019/02/,"2056"https://slate.com/human-interest/2019/02/,"2059"https://slate.com/human-interest/2019/02/,"2062"https://slate.com/human-interest/2019/02/,"2064"https://slate.com/human-interest/2019/02/,"2068"https://slate.com/human-interest/2019/02/,"2070"https://slate.com/human-interest/2019/02/,"2072"https://slate.com/human-interest/2019/02/,"2078"https://slate.com/human-interest/2019/02/,"2079"https://slate.com/human-interest/2019/02/,"2084"https://slate.com/human-interest/2019/02/,"2088"https://slate.com/human-interest/2019/02/,"2090"https://slate.com/human-interest/2019/02/,"2095"https://slate.com/human-interest/2019/02/,"2100"https://slate.com/human-interest/2019/02/,"2103"https://slate.com/human-interest/2019/02/,"2107"https://slate.com/human-interest/2019/02/,"2109"https://slate.com/human-interest/2019/02/,"2113"https://slate.com/human-interest/2019/02/,"2115"https://slate.com/human-interest/2019/02/,"2121"https://slate.com/human-interest/2019/02/,"2127"https://slate.com/human-interest/2019/02/,"2130"https://slate.com/human-interest/2019/02/,"2133"https://slate.com/human-interest/2019/02/,"2137"https://slate.com/human-interest/2019/02/,"2140"https://slate.com/human-interest/2019/02/,"2141"https://slate.com/human-interest/2019/02/,"2145"https://slate.com/human-interest/2019/02/,"2147"https://slate.com/human-interest/2019/02/,"2150"https://slate.com/human-interest/2019/02/,"2156"https://slate.com/human-interest/2019/02/,"2166"https://slate.com/human-interest/2019/02/,"2170"https://slate.com/human-interest/2019/02/,"2171"https://slate.com/human-interest/2019/02/,"2176"https://slate.com/human-interest/2019/02/,"2177"https://slate.com/human-interest/2019/02/,"2179"https://slate.com/human-interest/2019/02/,"2183"https://slate.com/human-interest/2019/02/,"2186"https://slate.com/human-interest/2019/02/,"2192"https://slate.com/human-interest/2019/02/,"2198"https://slate.com/human-interest/2019/02/,"2202"https://slate.com/human-interest/2019/02/,"2205"https://slate.com/human-interest/2019/02/,"2214"https://slate.com/human-interest/2019/02/,"2216"https://slate.com/human-interest/2019/02/,"2219"https://slate.com/human-interest/2019/02/,"2220"https://slate.com/human-interest/2019/02/,"2222"https://slate.com/human-interest/2019/02/,"2223"https://slate.com/human-interest/2019/02/,"2224"https://slate.com/human-interest/2019/02/,"2225"https://slate.com/human-interest/2019/02/,"2227"https://slate.com/human-interest/2019/02/,"2228"https://slate.com/human-interest/2019/02/,"2234"https://slate.com/human-interest/2019/02/,"2238"https://slate.com/human-interest/2019/02/,"2247"https://slate.com/human-interest/2019/02/,"2251"https://slate.com/human-interest/2019/02/,"2253"https://slate.com/human-interest/2019/02/,"2262"https://slate.com/human-interest/2019/02/,"2264"https://slate.com/human-interest/2019/02/,"2271"https://slate.com/human-interest/2019/02/,"2276"https://slate.com/human-interest/2019/02/,"2278"https://slate.com/human-interest/2019/02/,"2279"https://slate.com/human-interest/2019/02/,"2282"https://slate.com/human-interest/2019/02/,"2290"https://slate.com/human-interest/2019/02/,"2292"https://slate.com/human-interest/2019/02/,"2295"https://slate.com/human-interest/2019/02/,"2299"https://slate.com/human-interest/2019/02/,"2305"https://slate.com/human-interest/2019/02/,"2306"https://slate.com/human-interest/2019/02/,"2310"https://slate.com/human-interest/2019/02/,"2311"https://slate.com/human-interest/2019/02/,"2312"https://slate.com/human-interest/2019/02/,"2315"https://slate.com/human-interest/2019/02/,"2320"https://slate.com/human-interest/2019/02/,"2325"https://slate.com/human-interest/2019/02/,"2328"https://slate.com/human-interest/2019/02/,"2331"https://slate.com/human-interest/2019/02/,"2334"https://slate.com/human-interest/2019/02/,"2335"https://slate.com/human-interest/2019/02/,"2336"https://slate.com/human-interest/2019/02/,"2337"https://slate.com/human-interest/2019/02/,"2343"https://slate.com/human-interest/2019/02/,"2346"https://slate.com/human-interest/2019/02/,"2354"https://slate.com/human-interest/2019/02/,"2357"https://slate.com/human-interest/2019/02/,"2358"https://slate.com/human-interest/2019/02/,"2359"https://slate.com/human-interest/2019/02/,"2366"https://slate.com/human-interest/2019/02/,"2370"https://slate.com/human-interest/2019/02/,"2373"https://slate.com/human-interest/2019/02/,"2376"https://slate.com/human-interest/2019/02/,"2377"https://slate.com/human-interest/2019/02/,"2380"https://slate.com/human-interest/2019/02/,"2382"https://slate.com/human-interest/2019/02/,"2387"https://slate.com/human-interest/2019/02/,"2389"https://slate.com/human-interest/2019/02/,"2392"https://slate.com/human-interest/2019/02/,"2394"https://slate.com/human-interest/2019/02/,"2400"https://slate.com/human-interest/2019/02/,"2403"https://slate.com/human-interest/2019/02/,"2405"https://slate.com/human-interest/2019/02/,"2406"https://slate.com/human-interest/2019/02/,"2407"https://slate.com/human-interest/2019/02/,"2410"https://slate.com/human-interest/2019/02/,"2411"https://slate.com/human-interest/2019/02/,"2413"https://slate.com/human-interest/2019/02/,"2414"https://slate.com/human-interest/2019/02/,"2415"https://slate.com/human-interest/2019/02/,"2416"https://slate.com/human-interest/2019/02/,"2418"https://slate.com/human-interest/2019/02/,"2422"https://slate.com/human-interest/2019/02/,"2425"https://slate.com/human-interest/2019/02/,"2427"https://slate.com/human-interest/2019/02/,"2435"https://slate.com/human-interest/2019/02/,"2437"https://slate.com/human-interest/2019/02/,"2440"https://slate.com/human-interest/2019/02/,"2441"https://slate.com/human-interest/2019/02/,"2447"https://slate.com/human-interest/2019/02/,"2453"https://slate.com/human-interest/2019/02/,"2459"https://slate.com/human-interest/2019/02/,"2461"https://slate.com/human-interest/2019/02/,"2462"https://slate.com/human-interest/2019/02/,"2464"https://slate.com/human-interest/2019/02/,"2467"https://slate.com/human-interest/2019/02/,"2468"https://slate.com/human-interest/2019/02/,"2472"https://slate.com/human-interest/2019/02/,"2477"https://slate.com/human-interest/2019/02/,"2481"https://slate.com/human-interest/2019/02/,"2484"https://slate.com/human-interest/2019/02/,"2486"https://slate.com/human-interest/2019/02/,"2492"https://slate.com/human-interest/2019/02/,"2493"https://slate.com/human-interest/2019/02/,"2496"https://slate.com/human-interest/2019/02/,"2497"https://slate.com/human-interest/2019/02/,"2498"https://slate.com/human-interest/2019/02/,"2499"https://slate.com/human-interest/2019/02/,"2504"https://slate.com/human-interest/2019/02/,"2506"https://slate.com/human-interest/2019/02/,"2510"https://slate.com/human-interest/2019/02/,"2511"https://slate.com/human-interest/2019/02/,"2512"https://slate.com/human-interest/2019/02/,"2517"https://slate.com/human-interest/2019/02/,"2526"https://slate.com/human-interest/2019/02/,"2527"https://slate.com/human-interest/2019/02/,"2531"https://slate.com/human-interest/2019/02/,"2532"https://slate.com/human-interest/2019/02/,"2534"https://slate.com/human-interest/2019/02/,"2542"https://slate.com/human-interest/2019/02/,"2544"https://slate.com/human-interest/2019/02/,"2552"https://slate.com/human-interest/2019/02/,"2555"https://slate.com/human-interest/2019/02/,"2559"https://slate.com/human-interest/2019/02/,"2563"https://slate.com/human-interest/2019/02/,"2564"https://slate.com/human-interest/2019/02/,"2567"https://slate.com/human-interest/2019/02/,"2568"https://slate.com/human-interest/2019/02/,"2569"https://slate.com/human-interest/2019/02/,"2571"https://slate.com/human-interest/2019/02/,"2572"https://slate.com/human-interest/2019/02/,"2573"https://slate.com/human-interest/2019/02/,"2575"https://slate.com/human-interest/2019/02/,"2577"https://slate.com/human-interest/2019/02/,"2579"https://slate.com/human-interest/2019/02/,"2583"https://slate.com/human-interest/2019/02/,"2584"https://slate.com/human-interest/2019/02/,"2586"https://slate.com/human-interest/2019/02/,"2589"https://slate.com/human-interest/2019/02/,"2595"https://slate.com/human-interest/2019/02/,"2596"https://slate.com/human-interest/2019/02/,"2597"https://slate.com/human-interest/2019/02/,"2601"https://slate.com/human-interest/2019/02/,"2604"https://slate.com/human-interest/2019/02/,"2605"https://slate.com/human-interest/2019/02/,"2609"https://slate.com/human-interest/2019/02/,"2610"https://slate.com/human-interest/2019/02/,"2612"https://slate.com/human-interest/2019/02/,"2614"https://slate.com/human-interest/2019/02/,"2621"https://slate.com/human-interest/2019/02/,"2622"https://slate.com/human-interest/2019/02/,"2624"https://slate.com/human-interest/2019/02/,"2628"https://slate.com/human-interest/2019/02/,"2629"https://slate.com/human-interest/2019/02/,"2632"https://slate.com/human-interest/2019/02/,"2634"https://slate.com/human-interest/2019/02/,"2636"https://slate.com/human-interest/2019/02/,"2639"https://slate.com/human-interest/2019/02/,"2643"https://slate.com/human-interest/2019/02/,"2645"https://slate.com/human-interest/2019/02/,"2646"https://slate.com/human-interest/2019/02/,"2647"https://slate.com/human-interest/2019/02/,"2649"https://slate.com/human-interest/2019/02/,"2650"https://slate.com/human-interest/2019/02/,"2651"https://slate.com/human-interest/2019/02/,"2652"https://slate.com/human-interest/2019/02/,"2656"https://slate.com/human-interest/2019/02/,"2657"https://slate.com/human-interest/2019/02/,"2658"https://slate.com/human-interest/2019/02/,"2660"https://slate.com/human-interest/2019/02/,"2661"https://slate.com/human-interest/2019/02/,"2662"https://slate.com/human-interest/2019/02/,"2663"https://slate.com/human-interest/2019/02/,"2664"https://slate.com/human-interest/2019/02/,"2669"https://slate.com/human-interest/2019/02/,"2670"https://slate.com/human-interest/2019/02/,"2673"https://slate.com/human-interest/2019/02/,"2676"https://slate.com/human-interest/2019/02/,"2677"https://slate.com/human-interest/2019/02/,"2678"https://slate.com/human-interest/2019/02/,"2681"https://slate.com/human-interest/2019/02/,"2682"https://slate.com/human-interest/2019/02/,"2684"https://slate.com/human-interest/2019/02/,"2685"https://slate.com/human-interest/2019/02/,"2686"https://slate.com/human-interest/2019/02/,"2689"https://slate.com/human-interest/2019/02/,"2690"https://slate.com/human-interest/2019/02/,"2691"https://slate.com/human-interest/2019/02/,"2695"https://slate.com/human-interest/2019/02/,"2698"https://slate.com/human-interest/2019/02/,"2699"https://slate.com/human-interest/2019/02/,"2702"https://slate.com/human-interest/2019/02/,"2704"https://slate.com/human-interest/2019/02/,"2705"https://slate.com/human-interest/2019/02/,"2706"https://slate.com/human-interest/2019/02/,"2707"https://slate.com/human-interest/2019/02/,"2709"https://slate.com/human-interest/2019/02/,"2710"https://slate.com/human-interest/2019/02/,"2713"https://slate.com/human-interest/2019/02/,"2714"https://slate.com/human-interest/2019/02/,"2727"https://slate.com/human-interest/2019/02/,"2729"https://slate.com/human-interest/2019/02/,"2739"https://slate.com/human-interest/2019/02/,"2758"https://slate.com/human-interest/2019/02/,"2765"https://slate.com/human-interest/2019/02/,"2766"https://slate.com/human-interest/2019/02/,"2767"https://slate.com/human-interest/2019/02/,"2768"https://slate.com/human-interest/2019/02/,"2770"https://slate.com/human-interest/2019/02/,"2771"https://slate.com/human-interest/2019/02/,"2772"https://slate.com/human-interest/2019/02/,"2776"https://slate.com/human-interest/2019/02/,"2777"https://slate.com/human-interest/2019/02/,"2778"https://slate.com/human-interest/2019/02/,"2779"https://slate.com/human-interest/2019/02/,"2780"https://slate.com/human-interest/2019/02/,"2783"https://slate.com/human-interest/2019/02/,"2784"https://slate.com/human-interest/2019/02/,"2786"https://slate.com/human-interest/2019/02/,"2787"https://slate.com/human-interest/2019/02/,"2791"https://slate.com/human-interest/2019/02/,"2792"https://slate.com/human-interest/2019/02/,"2793"https://slate.com/human-interest/2019/02/,"2797"https://slate.com/human-interest/2019/02/,"2798"https://slate.com/human-interest/2019/02/,"2801"https://slate.com/human-interest/2019/02/,"2802"https://slate.com/human-interest/2019/02/,"2803"https://slate.com/human-interest/2019/02/,"2805"https://slate.com/human-interest/2019/02/,"2808"https://slate.com/human-interest/2019/02/,"2809"https://slate.com/human-interest/2019/02/,"2810"https://slate.com/human-interest/2019/02/,"2811"https://slate.com/human-interest/2019/02/,"2812"https://slate.com/human-interest/2019/02/,"2813"https://slate.com/human-interest/2019/02/,"2814"https://slate.com/human-interest/2019/02/,"2817"https://slate.com/human-interest/2019/02/,"2818"https://slate.com/human-interest/2019/02/,"2824"https://slate.com/human-interest/2019/02/,"2826"https://slate.com/human-interest/2019/02/,"2827"https://slate.com/human-interest/2019/02/,"2829"https://slate.com/human-interest/2019/02/,"2830"https://slate.com/human-interest/2019/02/,"2831"https://slate.com/human-interest/2019/02/,"2832"https://slate.com/human-interest/2019/02/,"2834"https://slate.com/human-interest/2019/02/,"2836"https://slate.com/human-interest/2019/02/,"2838"https://slate.com/human-interest/2019/02/,"2840"https://slate.com/human-interest/2019/02/,"2842"https://slate.com/human-interest/2019/02/,"2843"https://slate.com/human-interest/2019/02/,"2844"https://slate.com/human-interest/2019/02/,"2850"https://slate.com/human-interest/2019/02/,"2851"https://slate.com/human-interest/2019/02/,"2852"https://slate.com/human-interest/2019/02/,"2854"https://slate.com/human-interest/2019/02/,"2858"https://slate.com/human-interest/2019/02/,"2860"https://slate.com/human-interest/2019/02/,"2862"https://slate.com/human-interest/2019/02/,"2864"https://slate.com/human-interest/2019/02/,"2865"https://slate.com/human-interest/2019/02/,"2866"https://slate.com/human-interest/2019/02/,"2867"https://slate.com/human-interest/2019/02/,"2868"https://slate.com/human-interest/2019/02/,"2869"https://slate.com/human-interest/2019/02/,"2871"] }, n = { code: i, gvlid: 165, aliases: ["spotx"], supportedMediaTypes: [c.d], isBidRequestValid: operate isBidRequestValid(e) { if (e && "object" !== d(e.params)) return I.logError(i + ": params just isn't outlined or is inaccurate within the bidder settings."), !1; if (!I.deepAccess(e, "mediaTypes.video")) return I.logError(i + ": mediaTypes.video just isn't current within the bidder settings."), !1; var t = I.deepAccess(e, "mediaTypes.video.playerSize"); if (!t || !I.isArray(t)) return I.logError(i + ": mediaTypes.video.playerSize just isn't outlined within the bidder settings."), !1; if (!I.getBidIdParameter("channel_id", e.params)) return I.logError(i + ": channel_id just isn't current in bidder params"), !1; if (("outstream" == I.deepAccess(e, "mediaTypes.video.context") || "outstream" == I.deepAccess(e, "params.ad_unit")) && !I.getBidIdParameter("outstream_function", e.params)) { if (!I.getBidIdParameter("outstream_options", e.params)) return I.logError(i + ": please outline outstream_options parameter or override the default SpotX outstream rendering by defining your personal Outstream operate utilizing discipline outstream_function."), !1; if (!I.getBidIdParameter("slot", e.params.outstream_options)) return I.logError(i + ": please outline parameters slot outstream_options object within the configuration."), !1; } return !0; }, buildRequests: operate buildRequests(e, h) { var y = h.refererInfo.referer, b = !!y.match(/^https:/); return e.map(operate (e) { var t = I.getBidIdParameter("web page", e.params) ? I.getBidIdParameter("web page", e.params) : P.b.getConfig("pageUrl") ? P.b.getConfig("pageUrl") : y, r = I.getBidIdParameter("channel_id", e.params), a = null, d = I.deepAccess(e, "mediaTypes.video.playerSize"), i = d[0][0], n = d[0][1], o = b || (I.getBidIdParameter("safe", e.params) ? 1 : 0), s = { sdk_name: "Prebid 1+", versionOrtb: "2.3" }; if ("" != I.getBidIdParameter("hide_skin", e.params) && (s.hide_skin = +!!I.getBidIdParameter("hide_skin", e.params)), "" != I.getBidIdParameter("ad_volume", e.params) && (s.ad_volume = I.getBidIdParameter("ad_volume", e.params)), "" != I.getBidIdParameter("ad_unit", e.params) && (s.ad_unit = I.getBidIdParameter("ad_unit", e.params)), "" != I.getBidIdParameter("outstream_options", e.params) && (s.outstream_options = I.getBidIdParameter("outstream_options", e.params)), "" != I.getBidIdParameter("outstream_function", e.params) && (s.outstream_function = I.getBidIdParameter("outstream_function", e.params)), "" != I.getBidIdParameter("customized", e.params) && (s.customized = I.getBidIdParameter("customized", e.params)), "" != I.getBidIdParameter("pre_market_bids", e.params) && I.isArray(I.getBidIdParameter("pre_market_bids", e.params))) { var p = I.getBidIdParameter("pre_market_bids", e.params); for (var m in (s.pre_market_bids = [], p)) { var u = p[m], c = ""; u.vast_url ? c="" + u.vast_url + "" : u.vast_string && (c = u.vast_string), s.pre_market_bids.push({
id: u.deal_id,
seatbid: [{
bid: [{
impid: Date.now(),
dealid: u.deal_id,
price: u.price,
adm: c
}]
}],
cur: u.forex,
ext: {
event_log: [{}]
}
});
}
}
var g = I.getBidIdParameter("mimes", e.params) || ["application/javascript"https://slate.com/human-interest/2019/02/,"video/mp4″https://slate.com/human-interest/2019/02/,"video/webm"],
_ = {
id: e.bidId,
safe: o,
video: {
w: i,
h: n,
ext: s,
mimes: g
}
};
"" != I.getBidIdParameter("price_floor", e.params) && (_.bidfloor = I.getBidIdParameter("price_floor", e.params)), "" != I.getBidIdParameter("start_delay", e.params) && (_.video.startdelay = 0 + Boolean(I.getBidIdParameter("start_delay", e.params))), "" != I.getBidIdParameter("min_duration", e.params) && (_.video.minduration = I.getBidIdParameter("min_duration", e.params)), "" != I.getBidIdParameter("max_duration", e.params) && (_.video.maxduration = I.getBidIdParameter("max_duration", e.params)), "" != I.getBidIdParameter("placement_type", e.params) && (_.video.ext.placement = I.getBidIdParameter("placement_type", e.params)), "" != I.getBidIdParameter("place", e.params) && (_.video.ext.pos = I.getBidIdParameter("place", e.params)), e.crumbs && e.crumbs.pubcid && (a = e.crumbs.pubcid);
var l = navigator.language ? "language" : "userLanguage",
v = {
id: r,
imp: _,
web site: {
id: "",
web page: t,
content material: "content material"
},
machine: {
h: display.top,
w: display.width,
dnt: I.getDNT() ? 1 : 0,
language: navigator[l].cut up("-")[0],
make: navigator.vendor ? navigator.vendor : "",
ua: navigator.userAgent
},
ext: {
wrap_response: 1
}
};
I.getBidIdParameter("number_of_ads", e.params) && (v.ext.number_of_ads = I.getBidIdParameter("number_of_ads", e.params));
var f = {};
return 1 == I.getBidIdParameter("spotx_all_google_consent", e.params) && (f.consented_providers_settings = B), h && h.gdprConsent && (f.consent = h.gdprConsent.consentString, void 0 !== h.gdprConsent.gdprApplies && I.deepSetValue(v, "regs.ext.gdpr", h.gdprConsent.gdprApplies ? 1 : 0)), h && h.uspConsent && I.deepSetValue(v, "regs.ext.us_privacy", h.uspConsent), I.deepAccess(e, "userId.id5id.uid") && (f.eids = f.eids || [], f.eids.push({
supply: "id5-sync.com",
uids: [{
id: e.userId.id5id.uid
}],
ext: e.userId.id5id.ext || {}
})), a && (f.fpc = a), e && e.schain && (v.supply = {
ext: {
schain: e.schain
}
}), e && e.userId && e.userId.tdid && (f.eids = f.eids || [], f.eids.push({
supply: "adserver.org",
uids: [{
id: e.userId.tdid,
ext: {
rtiPartner: "TDID"
}
}]
})), I.isEmpty(f) || (v.consumer = {
ext: f
}), {
technique: "POST",
url: "https://search.spotxchange.com/openrtb/2.3/dados/" + r,
knowledge: v,
bidRequest: h
};
});
},
interpretResponse: operate interpretResponse(e, s) {
var p = [],
m = e.physique;
return m && I.isArray(m.seatbid) && I._each(m.seatbid, operate (e) {
I._each(e.bid, operate (t) {
var e = {};
for (var r in s.bidRequest.bids) {
t.impid == s.bidRequest.bids[r].bidId && (e = s.bidRequest.bids[r]);
}
I._each(e.params.pre_market_bids, operate (e) {
e.deal_id == t.id && (t.value = e.value, m.cur = e.forex);
});
var a = "USD",
cpm: t.value,
creativeId: t.crid ;
a.meta = a.meta || {}, t && t.adomain && 0 < t.adomain.size && (a.meta.advertiserDomains = t.adomain); var d = I.deepAccess(e, "mediaTypes.video.context"), i = I.deepAccess(e, "params.ad_unit"); if ("outstream" == d || "outstream" == i) { var n = I.deepAccess(e, "mediaTypes.video.playerSize"), o = u.a.set up({ id: 0, url: "//", config: { adText: "SpotX Outstream Video Advert through Prebid.js", player_width: n[0][0], player_height: n[0][1], content_page_url: I.deepAccess(s, "knowledge.web site.web page"), ad_mute: +!!I.deepAccess(e, "params.ad_mute"), hide_skin: +!!I.deepAccess(e, "params.hide_skin"), outstream_options: I.deepAccess(e, "params.outstream_options"), outstream_function: I.deepAccess(e, "params.outstream_function") } }); attempt { o.setRender(g), o.setEventHandlers({ impression: operate impression() { return I.logMessage("SpotX outstream video impression occasion"); }, loaded: operate loaded() { return I.logMessage("SpotX outstream video loaded occasion"); }, ended: operate ended() { I.logMessage("SpotX outstream renderer video occasion"); } }); } catch (e) { I.logWarn("Prebid Error calling setRender or setEve,tHandlers on renderer", e); } a.renderer = o; } p.push(a); }); }), p; } }; operate g(e) { var t = operate (e) { var t = I.getBidIdParameter("slot", e.renderer.config.outstream_options); I.logMessage("[SPOTX][renderer] Deal with SpotX outstream renderer"); var r = window.doc.createElement("script"); r.sort = "textual content/javascript", r.src = "https://js.spotx.television/easi/v1/" + e.channel_id + ".js"; var a = {}; a["data-spotx_channel_id"] = "" + e.channel_id, a["data-spotx_vast_url"] = "" + e.vastUrl, a["data-spotx_content_page_url"] = e.renderer.config.content_page_url, a["data-spotx_ad_unit"] = "incontent", I.logMessage("[SPOTX][renderer] Default beahavior"), I.getBidIdParameter("ad_mute", e.renderer.config.outstream_options) && (a["data-spotx_ad_mute"] = "1"), a["data-spotx_collapse"] = "0", a["data-spotx_autoplay"] = "1", a["data-spotx_blocked_autoplay_override_mode"] = "1", a["data-spotx_video_slot_can_autoplay"] = "1"; var d, i, n, o, s, p, m = I.getBidIdParameter("playersize_auto_adapt", e.renderer.config.outstream_options); m && I.isBoolean(m) && !0 === m && (e.width && I.isNumber(e.width) && e.top && I.isNumber(e.top) ? (d = e.width / e.top, i = window.doc.getElementById(t).clientWidth, n = e.renderer.config.player_width, o = e.renderer.config.player_height, p = s = 0, i < n && (o = (n = i) / d), p = d <= 1 ? (s = Math.spherical(o * d), o) : (s = n, Math.spherical(n / d)), a["data-spotx_content_width"] = "" + s, a["data-spotx_content_height"] = "" + p) : I.logWarn("[SPOTX][renderer] PlayerSize auto adapt: bid.width and bid.top are incorrect")); var u = I.getBidIdParameter("custom_override", e.renderer.config.outstream_options); if (u && I.isPlainObject(u)) for (var c in (I.logMessage("[SPOTX][renderer] Customized habits."), u)) "vast_url" === c for (var g in a) { a.hasOwnProperty(g) && r.setAttribute(g, a[g]); } return r; }(e); if (null != e.renderer.config.outstream_function && "operate" == typeof e.renderer.config.outstream_function) e.renderer.config.outstream_function(e, t);else attempt { var r, a, d, i = I.getBidIdParameter("in_iframe", e.renderer.config.outstream_options); i && "IFRAME" == window.doc.getElementById(i).nodeName ? (!(a = (r = window.doc.getElementById(i)).contentDocument) && r.contentWindow && (a = r.contentWindow.doc), a.physique.appendChild(t)) : (d = I.getBidIdParameter("slot", e.renderer.config.outstream_options)) && window.doc.getElementById(d) ? window.doc.getElementById(d).appendChild(t) : window.doc.getElementsByTagName("head")[0].appendChild(t); } catch (e) { I.logError("[SPOTX][renderer] Error:" + e.message); } } Object(a.registerBidder)(n); } }, [780]); pbjsChunk([96], { 796: operate _(e, t, r) { e.exports = r(797); }, 797: operate _(e, t, r) { "use strict"; Object.defineProperty(t, "__esModule", { worth: !0 }), r.d(t, "spec", operate () { return i; }); var n = r(1), a = r(0), p = 12, c = 11, u = 0, g = 22, i = { code: "teads", supportedMediaTypes: ["video"https://slate.com/human-interest/2019/02/,"banner"], isBidRequestValid: operate isBidRequestValid(e) a.logError("Teads placementId and pageId parameters are required. Bid aborted."), n; , buildRequests: operate buildRequests(e, t) { var r, n = e.map(f), i = { referrer: operate (e) { var t = ""; e && e.refererInfo && e.refererInfo.referer && (t = e.refererInfo.referer); return t; }(t), pageReferrer: doc.referrer, networkBandwidth: (r = window.navigator) && r.connection && 0 <= r.connection.downlink ? r.connection.downlink.toString() : "", timeToFirstByte: operate (e) e.webkitPerformance (window), knowledge: n, deviceWidth: display.width, hb_version: "4.13.0" }; e[0].schain && (i.schain = e[0].schain); var a, s, o, d = t.gdprConsent; return t && d && (a = "boolean" == typeof d.gdprApplies, s = "string" == typeof d.consentString, o = a ? operate (e, t, r) { var n = p; e ? operate (e, t) (t, r) && (n = c) : n = u; return n; }(d.gdprApplies, d.vendorData, d.apiVersion) : g, i.gdpr_iab = { consent: s ? d.consentString : "", standing: o, apiVersion: d.apiVersion }), t && t.uspConsent && (i.us_privacy = t.uspConsent), { technique: "POST", url: "https://a.teads.television/hb/bid-request", knowledge: JSON.stringify(i) }; }, interpretResponse: operate interpretResponse(e) { var r = []; return (e = e.physique).responses && e.responses.forEach(operate (e) { var t = { cpm: e.cpm, width: e.width, top: e.top, forex: e.forex, netRevenue: !0, ttl: e.ttl, advert: e.advert, requestId: e.bidId, creativeId: e.creativeId, placementId: e.placementId }; e.dealId && (t.dealId = e.dealId), r.push(t); }), r; } }; operate f(e) { var t, r = {}, n = a.getValue(e.params, "placementId"), i = a.getValue(e.params, "pageId"); return r.sizes = (t = e, a.parseSizesInput(operate (e) { var t = a.deepAccess(e, "mediaTypes.video.playerSize"), r = a.deepAccess(e, "mediaTypes.video.sizes"), n = a.deepAccess(e, "mediaTypes.banner.sizes"); return a.isArray(n) || a.isArray(t) || a.isArray(r) ? [n, r, t].scale back(operate (t, e) { return a.isArray(e) && (a.isArray(e[0]) ? e.forEach(operate (e) { t.push(e); }) : t.push(e)), t; }, []) : e.sizes; }(t))), r.bidId = a.getBidIdParameter("bidId", e), r.bidderRequestId = a.getBidIdParameter("bidderRequestId", e), r.placementId = parseInt(n, 10), r.pageId = parseInt(i, 10), r.adUnitCode = a.getBidIdParameter("adUnitCode", e), r.auctionId = a.getBidIdParameter("auctionId", e), r.transactionId = a.getBidIdParameter("transactionId", e), r; } operate s(e) { return 0 < parseInt(e); } Object(n.registerBidder)(i); } }, [796]); pbjsChunk([87], { 816: operate _(e, r, t) { e.exports = t(817); }, 817: operate _(e, r, t) { "use strict"; Object.defineProperty(r, "__esModule", { worth: !0 }), t.d(r, "tripleliftAdapterSpec", operate () { return m; }); var n = t(2), i = t(1), u = t(0), a = t(3); operate p() { return (p = Object.assign || operate (e) { for (var r = 1; r < arguments.size; r++) { var t = arguments[r]; for (var n in t) { Object.prototype.hasOwnProperty.name(t, n) && (e[n] = t[n]); } } return e; }).apply(this, arguments); } operate c(e) { return (c = "operate" == typeof Image && "image" == _typeof(Image.iterator) ? operate (e) { return _typeof(e); } : operate (e) { return e && "operate" == typeof Image && e.constructor === Image && e !== Image.prototype ? "image" : _typeof(e); })(e); } operate d(r, e) { var t, n = Object.keys(r); return Object.getOwnPropertySymbols && (t = Object.getOwnPropertySymbols(r), e && (t = t.filter(operate (e) { return Object.getOwnPropertyDescriptor(r, e).enumerable; })), n.push.apply(n, t)), n; } operate s(i) { for (var e = 1; e < arguments.length; e++) { var o = null != arguments[e] ? arguments[e] : {}; e % 2 ? d(Object(o), !0).forEach(function (e) { var r, t, n; r = i, n = o[t = e], t in r ? Object.defineProperty(r, t, { value: n, enumerable: !0, configurable: !0, writable: !0 }) : r[t] = n; }) : Object.getOwnPropertyDescriptors ? Object.defineProperties(i, Object.getOwnPropertyDescriptors(o)) : d(Object(o)).forEach(function (e) { Object.defineProperty(i, e, Object.getOwnPropertyDescriptor(o, e)); }); } return i; } function f(e) { return function (e) { if (Array.isArray(e)) return o(e); }(e) || function (e) { if ("undefined" != typeof Symbol && Symbol.iterator in Object(e)) return Array.from(e); }(e) || function (e, r) (e) || function () { throw new TypeError("Invalid attempt to spread non-iterable instance.nIn order to be iterable, non-array objects must have a [Symbol.iterator]() method."); }(); } function o(e, r) { (null == r || r > e.size) && (r = e.size);
for (var t = 0, n = new Array(r); t < r; t++) { n[t] = e[t]; } return n; } var y = !0, l = null, m = { code: "triplelift", supportedMediaTypes: [n.b, n.d], isBidRequestValid: operate isBidRequestValid(e) { if (e.mediaTypes.video) return void 0 !== e.params.inventoryCode; }, buildRequests: operate buildRequests(e, r) { var t, n = "https://tlx.3lift.com/header/public sale?", i = operate (e) { var r = {}, t = e[0].schain, n = operate () { var e = {}, r = p({}, a.b.getConfig("fpd.context")), t = p({}, a.b.getConfig("fpd.consumer")); return g(e, r), g(e, t), e; }(); r.imp = e.map(operate (e, r) { var t = { id: r, tagid: e.params.inventoryCode, ground: operate (e) { var r = null; { var t; "operate" == typeof e.getFloor && ("object" !== c(t = e.getFloor({ forex: "USD", mediaType: "banner", dimension: S(e.sizes) })) || "USD" !== t.forex || isNaN(parseFloat(t.ground)) || (r = parseFloat(t.ground))); } return null !== r ? r : e.params.ground; }(e) }; return !operate (e) { if (!e.mediaTypes.video) return !1; if (!e.mediaTypes.video.context) return !1; return "instream" === e.mediaTypes.video.context.toLowerCase(); }(e) ? e.mediaTypes.banner && (t.banner = { format: S(e.sizes) }) : t.video = b(e), t; }); var i = [].concat(f(operate (e) { return v(e, "tdid"https://slate.com/human-interest/2019/02/,"adserver.org"https://slate.com/human-interest/2019/02/,"TDID"); }(e)), f(operate (e) { return v(e, "idl_env"https://slate.com/human-interest/2019/02/,"liveramp.com"https://slate.com/human-interest/2019/02/,"idl"); }(e)), f(operate (e) { return v(e, "criteoId"https://slate.com/human-interest/2019/02/,"criteo.com"https://slate.com/human-interest/2019/02/,"criteoId"); }(e))); 0 < i.size && (r.consumer = { ext: { eids: i } }); var o = operate (e, r) { var t = {}; u.isEmpty(e) || (t.schain = s({}, e)); u.isEmpty(r) || (t.fpd = s({}, r)); return t; }(t, n); u.isEmpty(o) || (r.ext = o); return r; }(e); return n = u.tryAppendQueryString(n, "lib"https://slate.com/human-interest/2019/02/,"prebid"), n = u.tryAppendQueryString(n, "v"https://slate.com/human-interest/2019/02/,"4.13.0"), r && r.refererInfo && (t = r.refererInfo.referer, n = u.tryAppendQueryString(n, "referrer", t)), r && r.timeout && (n = u.tryAppendQueryString(n, "tmax", r.timeout)), r && r.gdprConsent && (void 0 !== r.gdprConsent.gdprApplies && (y = r.gdprConsent.gdprApplies, n = u.tryAppendQueryString(n, "gdpr", y.toString())), void 0 !== r.gdprConsent.consentString && (l = r.gdprConsent.consentString, n = u.tryAppendQueryString(n, "cmp_cs", l))), r && r.uspConsent && (n = u.tryAppendQueryString(n, "us_privacy", r.uspConsent)), !0 === a.b.getConfig("coppa") && (n = u.tryAppendQueryString(n, "coppa", !0)), n.lastIndexOf("&") === n.size - 1 && (n = n.substring(0, n.size - 1)), u.logMessage("tlCall request constructed: " + n), { technique: "POST", url: n, knowledge: i, bidderRequest: r }; }, interpretResponse: operate interpretResponse(e, r) { var t = r.bidderRequest; return (e.physique.bids || []).map(operate (e) { return operate (e, r) { var t = {}, n = r.width || 1, i = r.top || 1, o = r.deal_id || "", u = r.crid || "", a = e.bids[r.imp_id]; 0 != r.cpm && r.advert && (t = { requestId: a.bidId, cpm: r.cpm, width: n, top: i, netRevenue: !0, advert: r.advert, creativeId: u, dealId: o, forex: "USD", ttl: 300, tl_source: r.tl_source, meta: {} }, a.mediaTypes.video && (t.vastXml = r.advert, t.mediaType = "video"), r.advertiser_name && (t.meta.advertiserName = r.advertiser_name)); return t; }(t, e); }); }, getUserSyncs: operate getUserSyncs(e, r, t, n) { var i = operate (e) { if (!e) return; if (e.iframeEnabled) return "iframe"; if (e.pixelEnabled) return "picture"; }(e); if (i) { var o = "https://eb2.3lift.com/sync?"; return "picture" === i && (o = u.tryAppendQueryString(o, "px", 1), o = u.tryAppendQueryString(o, "src"https://slate.com/human-interest/2019/02/,"prebid")), null !== l && (o = u.tryAppendQueryString(o, "gdpr", y), o = u.tryAppendQueryString(o, "cmp_cs", l)), n && (o = u.tryAppendQueryString(o, "us_privacy", n)), [{ type: i, url: o }]; } } }; operate b(e) { var r = s(s({}, e.params.video), e.mediaTypes.video); return r.w || (r.w = r.playerSize[0][0]), r.h || (r.h = r.playerSize[0][1]), "instream" === r.context && (r.placement = 1), delete r.playerSize, r; } operate g(r, t) { u.isEmpty(t) || Object.keys(t).forEach(operate (e) { null != t[e] && (r[e] = t[e]); }); } operate v(e, r, t, n) { return e.map((u = r, operate (e) { return e && e.userId && e.userId[u]; })).filter(operate (e) { return !!e; }).map((i = t, o = n, operate (e) { return { supply: i, uids: [{ id: e, ext: { rtiPartner: o } }] }; })); var i, o, u; } operate S(e) { return e.filter(h).map(operate (e) { return { w: e[0], h: e[1] }; }); } operate h(e) { return 2 === e.size && "quantity" == typeof e[0] && "quantity" == typeof e[1]; } Object(i.registerBidder)(m); } }, [816]); pbjs.processQueue(); }, {}]; window.modules["via.legacy"] = [function(require,module,exports){"use strict"; DS.service("via", function () { "use strict"; // remove `via` from url, to be used after amplitude logs it to prevent users from sharing such urls function removeFromLocation() { var url = new URL(location.href); url.searchParams.delete("via"); history.replaceState(null, "", url.toString()); } // and add `via` param to any outbound links function addViaToUrl(href, via) { if (!href || href.substr(0, 1) === "#") { return href; // don't add to jumps on the current page, e.g. "Skip to main content" } var url = new URL(href); var apexDomain = new URL(location.href).hostname.split(".").slice(-2).join("."); if (url.hostname.indexOf(apexDomain) === -1) { return href; // don't add it to external links } url.searchParams.set("via", via); return url.toString(); } // keys correspond to "page_types" in editable_components.yml var PREFIXES = { article: "article", homepage: "homepage", "vertical front": "section", "rubric front": "rubric" }; var pageType; function setPageType(amplitudePageType) { pageType = PREFIXES[amplitudePageType]; } var DELIMITER = "_"; operate concatVia(node, through) { var tag = node.dataset && node.dataset.through; if (tag) { through = (through.size ? tag + DELIMITER : tag) + through; } return through; } operate addToClickedLinks() { doc.documentElement.addEventListener("click on", operate (e) { var a; var through = ""; // detect hyperlink nodes and gather through directives to append to the href var node = e.goal; // the factor the place this occasion originated might have been faraway from the dom, e.g. within the case of the OIL CMP which disappears after you work together with it whereas (node && node !== e.currentTarget) { if (node.tagName === "A") { a = node; } through = concatVia(node, through); node = node.parentNode; } if (a && through) { if (pageType) { through = pageType + DELIMITER + through; } a.href = addViaToUrl(a.href, through); } }); } operate addToSubmittedForms() { doc.documentElement.addEventListener("submit", operate (e) { var kind = e.goal; // gather through directives var through = ""; var node = e.goal; whereas (node !== e.currentTarget) { through = concatVia(node, through); node = node.parentNode; } if (through) { if (pageType) { through = pageType + DELIMITER + through; } // dynamically create a hidden enter for the shape url var enter = doc.createElement("enter"); enter.sort = "hidden"; enter.identify = "through"; enter.worth = through; kind.appendChild(enter); } }); } // begin listening solely as soon as, when first injected addToClickedLinks(); addToSubmittedForms(); return { setPageType: setPageType, removeFromLocation: removeFromLocation }; }); }, {}]; window.modules["visibility.legacy"] = [function(require,module,exports){"use strict"; DS.service("$visibility", ["$document"https://slate.com/human-interest/2019/02/,"$window"https://slate.com/human-interest/2019/02/,"_throttle"https://slate.com/human-interest/2019/02/,"Eventify", function ($document, $window, _throttle, Eventify) { var list = [], Seen, VisibleEvent; /** * @param {quantity} a * @param {quantity} b * @returns {*} * @see http://jsperf.com/math-min-vs-if-condition-vs/8 */ operate min(a, b) { return a < b ? a : b; } /** * @param {number} a * @param {number} b * @returns {*} * @see http://jsperf.com/math-min-vs-if-condition-vs/8 */ function max(a, b) { return a > b ? a : b;
}
/**
* Quick loop by way of watched parts
*/
operate onScroll() {
listing.forEach(updateVisibility);
}
/**
* updates seen property
* @param {Visble} merchandise
* @param {{}} evt
* @fires Seen#proven
* @fires Seen#hidden
*/
operate updateSeen(merchandise, evt) {
var px = evt.visiblePx,
% = evt.visiblePercent; // if some pixels are seen and we're larger/equal to threshold
if (px && % >= merchandise.shownThreshold && !merchandise.seen) {
merchandise.seen = true;
setTimeout(operate () {
merchandise.set off("proven", new VisibleEvent("proven", evt));
}, 15); // if no pixels or % is lower than threshold
} else if ((!px || % < item.hiddenThreshold) && item.seen) { item.seen = false; setTimeout(function () { item.trigger("hidden", new VisibleEvent("hidden", evt)); }, 15); } } /** * sets preload property * @param {Visible} item * @param {{}} evt * @param {Number} innerHeight * @fires Visible#preload */ function updatePreload(item, evt, innerHeight) { if (!item.preload && item.preloadThreshhold && shouldBePreloaded(evt.target, evt.rect, item.preloadThreshhold, innerHeight)) { item.preload = true; setTimeout(function () { item.trigger("preload", new VisibleEvent("preload", evt)); }, 15); } } /** * Trigger events * @param {Visible} item */ function updateVisibility(item) { var rect = item.el.getBoundingClientRect(), innerHeight = $window.innerHeight || $document.documentElement.clientHeight, px = getVerticallyVisiblePixels(rect, innerHeight), percent = px / (rect.height || innerHeight), evt = { target: item.el, rect: rect, visiblePx: px, visiblePercent: percent }; updateSeen(item, evt); updatePreload(item, evt, innerHeight); } /** * Return normalized viewport height * @return {number} */ function getViewportHeight() $document.documentElement.clientHeight /** * Return normalized viewport width * @return {number} */ function getViewportWidth() $document.documentElement.clientWidth /** * make sure an element isn't hidden by styles or etc * @param {Element} el * @return {Boolean} */ function isElementNotHidden(el) { return el && el.offsetParent !== null && !el.getAttribute("hidden") && getComputedStyle(el).display !== "none" && getComputedStyle(el).visibility !== "hidden"; } /** * Apparently the fastest way... * @param {Element} el * @returns {boolean} * @example if (!$visibility.isElementInViewport(el)) { ... } */ function isElementInViewport(el) /** * @param {Aspect} el * @param {ClientRect} rect * @param {Quantity} preloadThreshhold * @param {Quantity} innerHeight * @return {Boolean} */ operate shouldBePreloaded(el, rect, preloadThreshhold, innerHeight) { return rect.prime <= innerHeight + preloadThreshhold && isElementNotHidden(el); } /** * Create a one-dimensional spacial hash of x * @param {number} x * @param {number} stepSize * @param {number} optimalK * @param {number} base * @return {number} */ function getLinearSpacialHash(x, stepSize, optimalK, base) { var index = Math.floor(x / (stepSize || 1)), remainder = x % stepSize, result = index.toString(base); if (optimalK > 1) {
outcome += getLinearSpacialHash(the rest, Math.ground(stepSize / base), optimalK – 1, base);
}
return outcome;
}
/**
* @param {ClientRect} rect
* @param {quantity} innerHeight
* @returns {quantity}
*/
operate getVerticallyVisiblePixels(rect, innerHeight) {
return min(innerHeight, max(rect.backside, 0)) – min(max(rect.prime, 0), innerHeight);
}
/**
* Get offset of factor relative to total web page
*
* @param {Aspect} el
* @returns {{left: quantity, prime: quantity}}
* @see http://jsperf.com/offset-vs-getboundingclientrect/7
*/
operate getPageOffset(el) {
var offsetLeft = el.offsetLeft,
offsetTop = el.offsetTop;
whereas (el = el.offsetParent) {
offsetLeft += el.offsetLeft;
offsetTop += el.offsetTop;
}
return {
left: offsetLeft,
prime: offsetTop
};
}
/**
* Create a brand new Seen class to watch when parts enter and depart the viewport
*
* Name destroy operate to cease listening (that is till now we have higher assist for anticipating Node Elimination)
* @param {Aspect} el
* @param {{shownThreshold: quantity, hiddenThreshold: quantity}} [options]
* @class
* @instance this.seen = new $visibility.Seen(el);
*/
Seen = operate Seen(el, choices) {
choices = choices || {};
this.el = el;
this.seen = false;
this.preload = false;
this.preloadThreshhold = choices && choices.preloadThreshhold || 0;
this.shownThreshold = choices && choices.shownThreshold || 0;
this.hiddenThreshold = choices && min(choices.shownThreshold, choices.hiddenThreshold) || 0;
listing.push(this);
updateVisibility(this); // set instantly to seen or not
};
Seen.prototype = {
/**
* Cease triggering.
*/
destroy: operate destroy() {
// take away from listing
listing.splice(listing.indexOf(this), 1);
}
/**
* @identify Seen#on
* @operate
* @param 'hidden' e EventName
* @param {operate} cb Callback
*/
/**
* @identify Seen#set off
* @operate
* @param 'hidden' e
* @param {{}}
*/
};
Eventify.allow(Seen.prototype);
VisibleEvent = operate VisibleEvent(sort, choices) {
var _this = this;
this.sort = sort;
Object.keys(choices).forEach(operate (key) {
_this[key] = choices[key];
});
}; // hear for scroll occasions (throttled)
$doc.addEventListener("scroll", _throttle(onScroll, 200)); // public
this.getPageOffset = getPageOffset;
this.getLinearSpacialHash = getLinearSpacialHash;
this.getVerticallyVisiblePixels = getVerticallyVisiblePixels;
this.getViewportHeight = getViewportHeight;
this.getViewportWidth = getViewportWidth;
this.isElementNotHidden = isElementNotHidden;
this.isElementInViewport = isElementInViewport;
this.Seen = Seen;
}]);
}, {}];
require=(operate e(t,n,r){operate s(o,u){if(!n[o]){if(!t[o]){var a=typeof require=="operate"&&require;if(!u&&a)return a(o,!0);if(i)return i(o,!0);var f=new Error("Can't discover module '"+o+"'");throw f.code="MODULE_NOT_FOUND",f}var l=n[o]={exports:{}};t[o][0].name(l.exports,operate(e){var n=t[o][1][e];return s(n?n:e)},l,l.exports,e,t,n,r)}return n[o].exports}var i=typeof require=="operate"&&require;for(var o=0;o= o.size) return { completed: true }; return { completed: false, worth: o[i++] }; }, e: operate e(_e) { throw _e; }, f: F }; } throw new TypeError("Invalid try and iterate non-iterable occasion.nIn order to be iterable, non-array objects should have a [Symbol.iterator]() technique."); } var normalCompletion = true, didErr = false, err; return { s: operate s() { it = o[Symbol.iterator](); }, n: operate n() { var step = it.subsequent(); normalCompletion = step.completed; return step; }, e: operate e(_e2) { didErr = true; err = _e2; }, f: operate f() { attempt { if (!normalCompletion && it.return != null) it.return(); } lastly { if (didErr) throw err; } } }; }
operate _unsupportedIterableToArray(o, minLen) n === "Set") return Array.from(o); if (n === "Arguments"
operate _arrayLikeToArray(arr, len) { if (len == null || len > arr.size) len = arr.size; for (var i = 0, arr2 = new Array(len); i < len; i++) { arr2[i] = arr[i]; } return arr2; } operate mountLegacyServices() { Object.keys(window.modules).filter(operate (key) { return typeof key === 'string' && key.match(/.legacy$/); }).forEach(operate (key) { return window.require(key); }); } operate tryToMount(fn, el, identify) { attempt { fn(el); // init the controller } catch (e) { var elementTag = el.outerHTML.slice(0, el.outerHTML.indexOf(el.innerHTML)); console.error("Error initializing controller for "".concat(identify, "" on "").concat(elementTag, """), e); } } /** * mount consumer.js part controllers */ operate mountComponentModules() { Object.keys(window.modules).filter(operate (key) { return typeof key === 'string' && key.match(/.consumer$/); }).forEach(operate (key) { var controllerFn = window.require(key); if (typeof controllerFn === 'operate') { var identify = key.substitute('.consumer"https://slate.com/human-interest/2019/02/,"'), instancesSelector = "[data-uri*="_components/".concat(name, "/"]"), defaultSelector = "[data-uri$="_components".concat(name, ""]"), cases = doc.querySelectorAll(instancesSelector), defaults = doc.querySelectorAll(defaultSelector); var _iterator = _createForOfIteratorHelper(cases), _step; attempt { for (_iterator.s(); !(_step = _iterator.n()).completed;) { var el = _step.worth; tryToMount(controllerFn, el, identify); } } catch (err) { _iterator.e(err); } lastly { _iterator.f(); } var _iterator2 = _createForOfIteratorHelper(defaults), _step2; attempt { for (_iterator2.s(); !(_step2 = _iterator2.n()).completed;) { var _el = _step2.worth; tryToMount(controllerFn, _el, identify); } } catch (err) { _iterator2.e(err); } lastly { _iterator2.f(); } } }); } // Be sure that a `window.course of.env.NODE_ENV` is offered within the consumer for any dependencies, // providers, or elements that would require it // word: the `` worth is swapped for the precise atmosphere variable in /lib/cmd/compile/scripts.js window.course of = window.course of || {}; window.course of.env = window.course of.env || {}; if (!window.course of.env.NODE_ENV) { window.course of.env.NODE_ENV = ''; } // word: legacy controllers that require legacy providers (e.g. dollar-slice) should // anticipate DOMContentLoaded to initialize themselves, because the recordsdata themselves should be mounted first mountLegacyServices(); mountComponentModules(); // ]]